Oregon officer shot while responding to house fire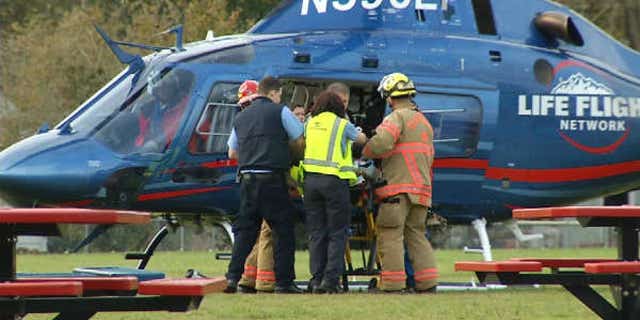 NEWYou can now listen to Fox News articles!
OREGON CITY, Ore. – A man suspected of shooting a police officer who responded to a fire at his home was later found dead, authorities said Sunday.
The officer was shot responding the house fire at about 1 p.m. Sunday and flown to a hospital. There was no immediate word about the officer's condition.
Clackamas County sheriff's Sgt. Dan Kraus told The Oregonian newspaper that the suspect was dead. No details were immediately disclosed about how the suspect died.
The sheriff's office wrote on its Twitter feed that the situation had "stabilized" and that an investigation was beginning. It asked people to stay out of the area.
Mark and Molly Hansen told KGW-TV that their son saw the suspect on the porch of the burning home. When their son told the man his home was on fire, he responded that he had set it, they said.
The suspect then reportedly shot the arriving officer in the middle of the street, and neighbors ran into their homes.
Police evacuated the neighborhood and closed streets before dozens of officers moved in on the home. Another Portland television station, KATU, reported that several shots were fired around 2:45 p.m., shortly before the sheriff's office reported that the suspect was dead.
Families were later seen being escorted back to their homes.