Oregon boy Kyron Horman's 7-year disappearance leads to new FBI billboards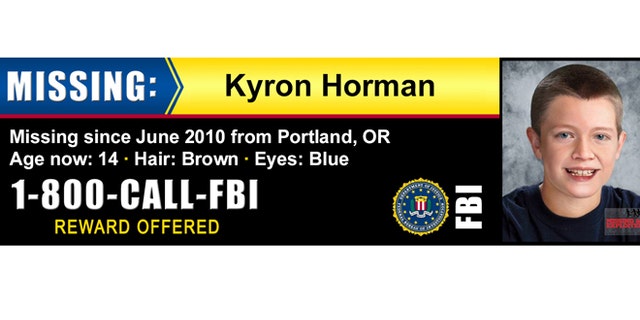 The FBI has launched a digital billboard campaign to draw attention to Oregon's biggest missing persons case — the tragic 2010 disappearance of a 7-year-old boy.
The FBI said Thursday it began running billboards in the Kyron Horman case in five Oregon cities, including Portland.
Kyron disappeared June 4, 2010 in northwest Portland and his heartbroken mom still prays for his return, KPTV reported Thursday.
"The other day, I was listening to one of his favorite songs and I could just picture us dancing around the living room again," said Desiree Young, according to the station. "And I just want to have those moments and those memories back."
Young spoke about her son at a National Missing Children's Day event in Salem.
She believes Kyron's stepmother is responsible for the boy's disappearance, according to the station.
Terri Horman was the last person known to have seen him, police have said. Police never have charged her or labeled her a suspect. She has denied harming the boy.
"Time is running out and Terri's going to be held accountable," said Young, according to KPTV. "I'm confident in that. And she can't help but be herself and that's what I'm relying on."
Kyron was living with his stepmother at the time of his disappearance.
She divorced Kyron's father and left Oregon, The Oregonian reported Thursday.
California cops charged her late last year with driving a stolen car near San Francisco, according to the paper. She also faced a restraining order from a man in an alleged domestic violence case.