Order Blocking Okla. Islamic Law Measure Extended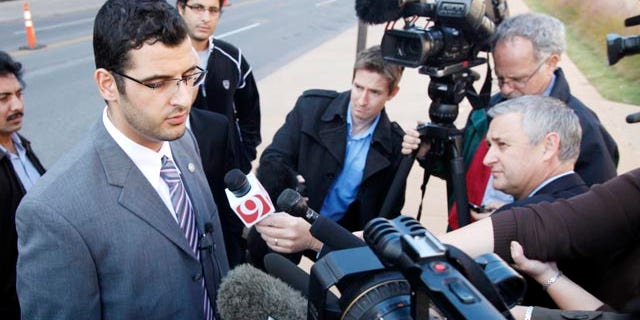 NEWYou can now listen to Fox News articles!
OKLAHOMA CITY – A federal judge on Monday said she would rule by the end of the month on a lawsuit challenging an Oklahoma constitutional amendment that would prohibit state courts from considering international or Islamic law when deciding cases.
U.S. District Judge Vicki Miles-LeGrange extended a restraining order blocking enforcement of the new law until Nov. 29 during a hearing in the case.
Muneer Awad, the executive director of the Council on American-Islamic Relations in Oklahoma, is suing to block the law from taking effect. It was approved in a referendum by 70 percent of Oklahoma voters on the Nov. 2 ballot.
Awad contends that the ban on Islamic law, also known as Sharia Law, would likely affect every aspect of his life as well as the execution of his will after his death.
"Sharia definitely encompasses how to live my life," Awad said in court. "Everything I do can be defined as Sharia. I have to believe that everything I do is going to be forbidden from the courts."
Awad said he will likely have to rewrite his will if the amendment is allowed to take effect. He also said his faith will be demonized in the Oklahoma Constitution because it is the only one specifically mentioned in the measure.
"All I see when I see this amendment is the state condemnation of my faith," he said.
Awad said he has received e-mail, letters and phone calls attacking his faith since he filed a lawsuit on Nov. 4 to prevent the state Election Board from certifying the referendum's results.
Oklahoma's 20,000 to 30,000 Muslims make up less than 1 percent of the population, and critics contend that the new law is simply an attack on Islam that has no practical purpose.
Awad said he was troubled by state lawmakers who placed the measure on the ballot. His attorney, Michael Salem, provided the judge with a recording of a television interview in which supporters said they did not want Islamic law considered in U.S courts where the legal system is based on Judeo-Christian traditions.
Salem characterized its legislative supporters as "xenophobic merchants of fear and hate."
"It is an evil that needs to be stamped out. And I think we need to start here," Salem said.
Miles-LaGrange, who issued the restraining order on Nov. 8, said she needed time to work through the legal issues surrounding Awad's request for an injunction. She said those issues include the will of voters who passed the measure and Awad's allegation that it restricts his First Amendment right to practice his religion as he chooses.
"It's certainly not a matter to be taken lightly with what is at stake here," the judge said.
Several current and former state lawmakers attended the hearing. The measure's Senate sponsor, Sen. Anthony Sykes, R-Oklahoma City, accused Awad of fabricating his legal complaint by filing his will, which Awad has said contains elements of Islamic law, on Nov. 4 — the same day he filed the lawsuit.
"This is a manufactured lawsuit," Sykes said. "There's some positioning and maneuvering here."
The measure's principal author, former Rep. Rex Duncan, R-Sand Springs, has said the amendment was not intended as an attack on Muslims but an effort to prevent so-called "activist" judges from relying on international law or Islamic law when ruling on legal cases.
In 2007, Duncan rejected a Quran as a gift from a council created by Gov. Brad Henry, explaining that "most Oklahomans do not endorse the idea of killing innocent women and children in the name of ideology."
Assistant Attorney General Scott Boughton argued that Awad's allegations are speculative because the constitutional amendment has not taken effect and it is not known how Oklahoma courts will interpret it.
"They are putting the cart ahead of the horse, judge. There has been no harm to plaintiff," Boughton said.
He said the constitutional amendment will not prevent Awad or other Muslims from practicing their religious faith and to set aside the measure's overwhelming approval by voters would be extraordinary.
"It's a huge, huge remedy they are seeking," Boughton said.