Optional Bible class at Michigan elementary school canceled after complaints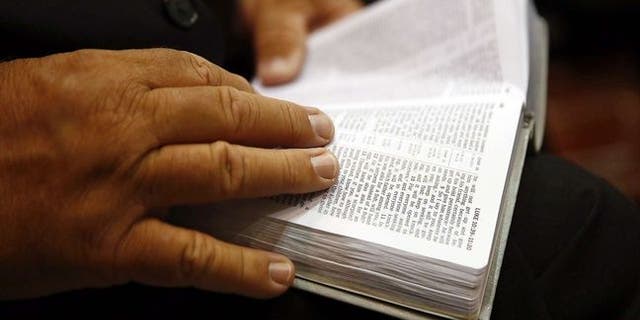 A public school in Michigan canceled an off-site Bible class after a parent complained -- yet school administrators are reviewing the study for possible reinstatement.
Children at Daisy Brook Elementary School, a public grade school in Fremont, Michigan, no longer have the option to attend a "Bible Release Time" class held at the local Fremont Wesleyan Church.
This set off an uproar among parents who had enrolled their children in the class.
"I don't agree with it because I don't believe it is a violation of the First Amendment," parent Britney TerVeer told Fox 17 West Michigan. "It's not on school property. Parents have to sign their kids. It's completely optional."
The Michigan Association of Civil Rights Activists wrote a complaint letter to school officials, saying the Bible class must go, the local news source reported.
LIGHT FROM HEAVEN? PHOTO OF CRASH SITE BRINGS COMFORT TO GRIEVING FAMILY
"Bible Release Time is a program permitted by Michigan law, whereby children are released from school classes during school hours to attend religious instruction at a nearby location," a flyer for the class notes. "Pastor John Perkins will be conducting the Bible Release Time class in the Newago and Kent Counties."
A school van picks up the children from school to take them to church, where Pastor John Perkins leads the study.
For fourth grade students at Daisy Brook, the class was held once a month during the noon hour, according to the flyer. Parents had to give permission for children to attend.
The Bible class "is clearly designed to promote and support one particular religion, pastor, and church, and is thus an unconstitutional endorsement of religion," the Michigan Association of Civil Rights Activists wrote in a Facebook post on May 17. "Such programs are discriminatory and violate the Establishment Clause of the First Amendment to the Constitution of the United States."
Around 100 of the 400 students at Daisy Brook attend the Bible class, reported WZZM 13 News, a local ABC affiliate TV station. In Michigan, public school students are allowed two hours per week to attend religious instruction outside of school.
MORMON CHURCH PULLING THOUSANDS OF TEENS FROM BOY SCOUTS
"Just because other religions don't offer this kind of thing at school, it is unfair to take it away from the Christian religion," parent TerVeer told WZZM 13. "I brought my kids up in a Christian family my whole life, and I'd like to continue that."
Ken Haggart, the school district superintendent, hopes to continue the program in the future.
"It was recommended by school attorneys to discontinue the program for the remainder of year, allowing us to take time to make sure things are done correctly," Haggart stated.
Yet the advocacy organization that originally filed the complaint won't back down.
"Superintendent Ken Haggart just doesn't get it," the Michigan Association of Civil Rights Activist (MACRA) wrote on its Facebook page on May 18. "White Christian privilege is ingrained in his DNA. The 'Bible Release' program is canceled for now, but in the fall, MACRA will place Daisy Brook on its list of schools for special monitoring to assure continued compliance with the law and Constitution."