Online love scams break hearts and leave many in financial ruin
A registered nurse who joined a popular dating app to look for love ended up being scammed out of thousands of dollars.
The 40-year-old woman from a western state told Fox News that she exchanged private messages with a man who sent her dozens of photos and a promise of a better life.
"We were going to have a life together.  I was going to raise his children and with every photo came a whole bunch of [a romantic] type of life, a different life," said the woman, who does not want to reveal her identity.
She said the man, who was not the same man in the photos sent to her, ended up scamming her out of $50,000. He ended up with her personal information and is threatening to make it public if she exposes him.
"I trusted this person and I thought I loved this person. He got pictures, too. And as soon as I caught on that he was not really who he was saying he was, he threatened to use all my information against me if I were to turn him in," she said, "and so I haven't really been able to do anything about it."
The woman is not alone. The FBI says love scams are among the fastest-growing crimes on the Internet. In 2016, over a billion dollars was taken from people looking for love in the wrong place and with the wrong person.
And more often than not, experts say, that wrong person appears to be a man in uniform, according to the Facebook page Military Romance Scams. The page compiles hundreds of photos of military men whose photos have been stolen—men like Gabe Fanelli. His photos were used to scam not only the registered nurse, but dozens of other people.
"I mean I get maybe 10 messages a week even asking me, 'Hey, do you remember talking to me on this website or that website,' and it's not me, but it is—dozens of women a week that are saying that they've been scammed by me," said the Army sergeant.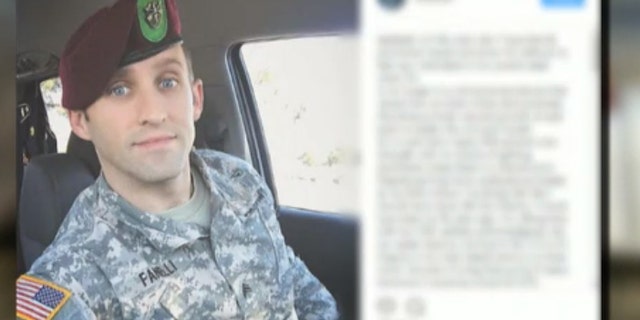 Fanelli is active on the Internet. His public Instagram account shows him at the beach, in the mountains and playing sports. He has no plans to privatize his account.
"I'm transparent in every aspect of my life," said Fanelli. "I've tried making my profile private. I don't want to live in fear. The things that I've post[ed] have helped a lot of people bring a positive spin to a lot of things, the benefits outweigh the risks."
He said over the past five years, he's posted thousands of pictures on the Internet.
"Most of them have been of my kids and some videos as well, but that does leave me vulnerable to a certain kind of scammer, I guess," he said.

In fact, his photos are a treasure trove for scammers who simply cut and paste his life to create an alternative one—one that always includes needing money.
The scammer, who pretended to be an active service member, told the registered nurse he needed money for medicine and to get out of trouble. He always said he was going to pay her back.
"Within three days of talking, he all of a sudden got deployed so I was never able to meet him face to face," the woman stated. "And then he needed money for data so that we could continue talking and then he got malaria and as a nurse I know how bad malaria can be so, he needed money for better care."
"And one time [he] even showed me pictures of [an] ambush where he got shot and was in the hospital for that," she told Fox News.
She was never repaid.
"It just got to the point where the debt overconsumed me and I'm in a debt-settlement program now and I have been separated from my family over it," she said, "and I'm left with nothing but shame."
The FBI says it is difficult to catch scammers and warns Internet users to never send money to anyone he or she has not met in person.