One Week Until New York Primary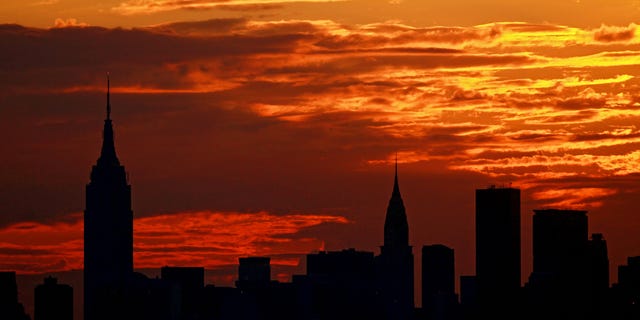 One week until the critical New York primary.. that's shaping up to be a potentially make-or-break primary for both sides of the aisle.
New polling from the Wall Street Journal, Marist and NBC News have Donald Trump with a 33 point lead over his closest rival (John Kasich). Hillary Clinton has a 14-point lead over Bernie Sanders.
0930EDT -- Hillary Clinton holds a roundtable discussion. The Times Center, New York, NY. LIVE via LiveU
1000EDT -- Sen Sanders holds a town hall meeting. Monroe Community College, Rochester, NY. LIVE via LiveU
1030EDT -- Fmr Pres Clinton speaks. Mudan Banquet Hall, Flushing, NY. LIVE via LiveU
Sanders attracted thousands the three separate rallies in New York yesterday. Bernie has continued pounding Hillary for lack of judgment.
New AP-GfK polling suggests at least half of Americans would be disappointed or angry if Donald Trump or Hillary Clinton are nominated.
Hillary Clinton has released a new anti-Trump ad. More than half of the money spent so far on negative ads have targeted Donald Trump.
Donald Trump continued complaining about what he calls a corrupt and crooked delegate selection process. Trump has not gotten a share of delegates equal to his popular vote in several primary and caucus states. Trump saying last night, "The system is rigged, folks."
Last night, Ted Cruz said Trump was doing "a lot of whining."
The New York Times writes about John Kasich's struggling campaign today. Reporter Jonathan Martin writes:
"He received fewer votes in one state than a candidate who was no longer in the race. He has not added a single delegate since March 15. And outside of his home state — the only one he has won to date — he has been the top vote-getter in just four counties.
Gov. John Kasich of Ohio has performed so abysmally in the Republican presidential primary that his curious insistence on remaining in the race has made him into a can't-take-a-hint punch line.
As the race for the Republican presidential nomination turns toward a series of Northeastern and Mid-Atlantic states this month, even Mr. Kasich's supporters concede that he must quickly demonstrate relevance if he is to have even a long-shot hope of emerging as an alternative candidate at a contested convention this summer."
1030EDT -- OH Gov Kasich delivers speech on the "Two Paths" facing America. Women's National Republican Club, New York, NY. LIVE via LiveU
President Obama set to make remarks at a newly-designated Women's Equality National Monument. The Sewall-Belmont home in Washington will become the Belmont-Paul Women's Equality National Monument. Alva Belmont and Alice Paul were figures in the women's rights and suffrage movements.
1125EDT -- POTUS delivers remarks at the newly-designated Belmont-Paul Women's Equality National Monument. Washington, DC. LIVE
The White House is asking Congress for more money to fight the Zika virus.. which the CDC yesterday said is scarier than they first thought.
An Ohio man has pleaded not guilty to terrorism charges. Abdirahman Sheik Mohamud is accused of plotting to attack a prison or military base.
Two more suspects have been charged in the Brussels terror attacks. The two men are believed to have rented the apartment that was a hideout for one of the bombers and an accomplice. 32 people were killed in the dual attacks on a subway and the Brussels airport.
The lower house of Congress in Brazil could vote as early as this weekend on whether to vote to impeach Brazilian president Dilma Rousseff. If they vote in favor, the Senate would hold a trial.
Goldman Sachs will pay $5.1 billion to settle an investigation of the Wall Street firm and its contribution to the Great Recession.
Alcoa kicked off earnings season after the close yesterday with the announcement it may cut as many as 2,000 jobs.. an inauspicious beginning to the quarterly reports.
For more news, follow me on Twitter: @ClintPHenderson