Oklahoma State Women's Coaches Killed in Arkansas Plane Crash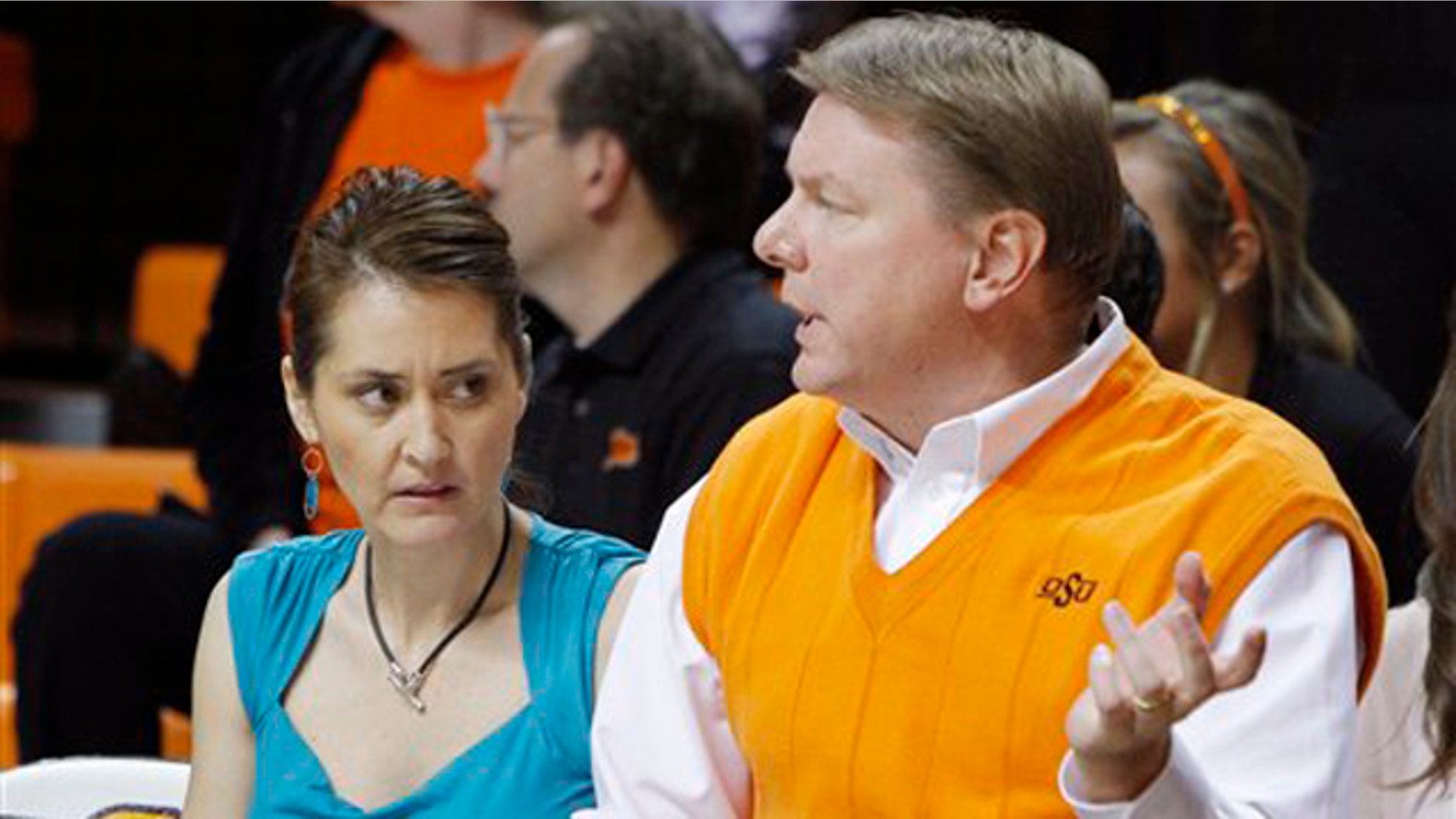 A former Oklahoma state senator was piloting the small plane that crashed in central Arkansas, killing Oklahoma State women's basketball coach Kurt Budke and his assistant Miranda Serna.
Olin Branstetter, 82, and his wife Paula were the other two passengers killed aboard the plane Thursday. FAA records show Branstetter, a veteran pilot, was the owner of the single-engine plane, which crashed in Perry County, about 45 miles west of Little Rock.
Budke and Serna were in Arkansas on a recruiting trip.
A deer hunter's wife called 911 at about 4:30 p.m. local time after the plane crashed into a steep ridge in a rugged area of national forest land, according to the report.
"She saw the airplane swirling. It basically nose-dived and crashed," said Mike Surrett, chief deputy criminal investigator at the Perry County Sheriff's Department.
"They were ejected. Debris was scattered over about a 300 or 400 yard area."
The wreckage was located at about 6:00 p.m. local time by a police helicopter. The cause of the crash is under investigation by the National Transportation Safety Board.
Budke, 50, had been the Cowgirls' coach since 2005. Serna had worked as Budke's assistant for seven seasons, including time with him at Louisiana Tech University.
The school announced the team's games on Saturday and Sunday would be canceled in the wake of the crash.
"The Oklahoma State family is devastated by this tragedy," university president Burns Hargins said in a statement.
"Our hearts and prayers go out to the families of Kurt Budke, Miranda Serna and the other victims. Kurt was an exemplary leader and a man of character who had a profound impact on his student-athletes. He was an outstanding coach and a wonderful person. We send our deepest sympathies to his wife, Shelley, and their children, Sara, Alex and Brett."
The tragedy is the second in a decade to devastate the Stillwater, Okla., campus.
In 2001, a plane carrying members of the Oklahoma State men's basketball team crashed in a snowstorm in Colorado as the team returned from a game. Ten people, including two players, the team's radio play-by-play broadcaster, and several other athletic department employees, were killed.
Athletic director Mike Holder named Jim Littell as the team's interim head coach. Littell had been associate head coach.
"We are shocked by this terrible loss," Holder said. "Kurt Budke was an incredibly positive influence on his players and was a tremendous coach. He quickly turned our program around and put Cowgirl basketball on the map. Miranda was a tireless worker and great recruiter."
Budke went 80-16 at Louisiana Tech before arriving in Stillwater, where he turned around the Cowgirls program, going 112-83 in his six seasons. The team was 0-16 in Big 12 play during Budke's first year, but in 2009-10 the Cowgirls won 24 games and finished with a top 10 ranking for the first time in school history.
The team opened the season with a 96-60 victory over Rice on Sunday.
Serna played for Budke when he was at Trinity Valley (Texas) Community College in the 1990s and was the Cowgirls' recruiting coordinator.
The tragedy comes as Oklahoma State's undefeated and second-ranked football team prepares to play Friday night at Iowa State.