Ohio teen who went missing after witnessing dad's murder found alive, police say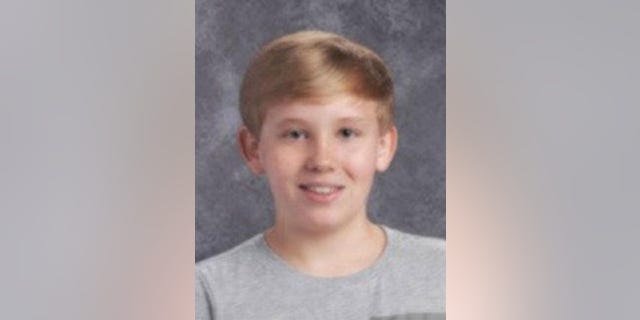 An Ohio teen who vanished more than a year ago after witnessing his father's murder was found alive, police said.
Jacob Caldwell, 15, was found around 11:30 p.m. Monday in the basement of a home 40 miles away in Miami Township, WKEF reported. Authorities located the teen after they received an anonymous tip that led them to Jacob, who was living in the home with four adults who were not related to him.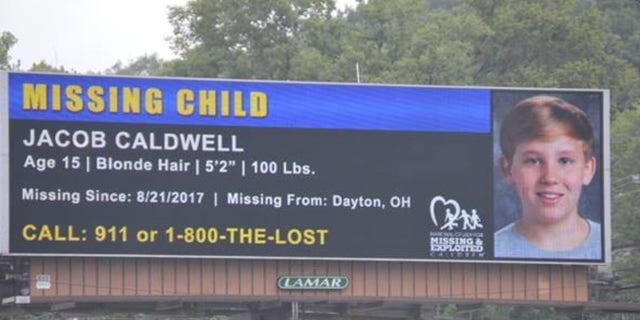 Jacob was reported missing on Aug. 21, 2017, six days after he and his two siblings watched as his father, Robert Caldwell, was gunned down outside an office building.
The teenager was last seen on surveillance video waiting outside a Walmart, WHIO reported. Police were worried about the then-14-year-old's safety and were unsure if he was being held against his will. They also believed he was in Ohio or Kentucky.
New billboards were put up last week in the search for Caldwell, which led to Monday's tip.
MYSTERY AS WOMAN IN T-SHIRT AND POSSIBLY SHACKLES APPEARS ON TEXAS HOMEOWNER'S DOORSTEP
On Tuesday, authorities said it didn't appear that Jacob was "secured or locked in" the basement, where he appeared to be sleeping.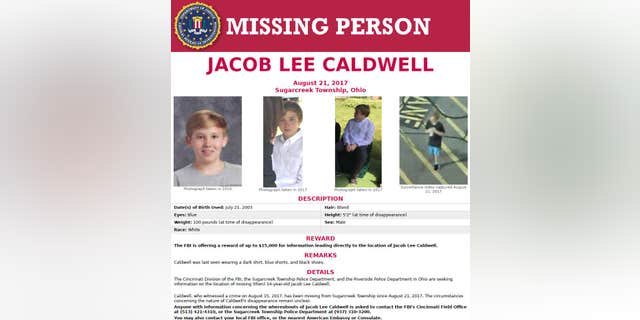 "It was our understanding that he was not outside much. He's gone a year without school. He's gone a year without socializing with friends," Sugarcreek Township Police Chief Michael Brown said. "There was no evidence of him being secured or locked in. I think he could have roamed throughout the house, if he wished."
Caldwell was taken to Greene County Juvenile Detention Center in Beavercreek, where he's being held on an unruly charge stemming from a previous unrelated runaway incident, according to Brown.
Authorities will also be pursuing charges against the adults who possibly helped Caldwell go missing.
Six people, including Caldwell's ex-wife Tawnney Caldwell, were indicted in March on Robert Caldwell's death, WKEF reported.