Ohio State marching band song mocked Holocaust victims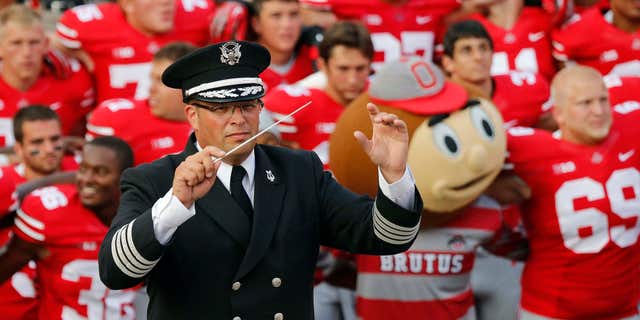 NEWYou can now listen to Fox News articles!
Ohio State University said on Thursday that an unofficial marching band song poking fun at Holocaust victims is the type of thing the school is trying to eradicate from the program.
The Wall Street Journal reports the song lyrics were printed in a 2012 version of an unofficial songbook. Other versions of the songbook had circulated privately among band members for years, including 2006 and 2010 versions. An independent investigation of the marching band revealed the existence of the song last year, but not the lyrics.
"The 2012 version contained a new, highly offensive song regarding Jews and the Holocaust," according to the 2014 report by former state Attorney General Betty Montgomery.
"Band members indicated that most songs in the Songbook were never actually sung, except for perhaps the 'altered' fight songs of rival schools," Montgomery's report said.
The university on Thursday described the lyrics as "shocking behavior."
Ohio State fired director Jonathan Waters last year after determining he ignored a "sexualized culture" within the band, known to football fans as The Best Damn Band in the Land. A university probe found that Waters turned a blind eye to the band's culture of raunchy, profane, and suggestive traditions and mishandled discrimination allegations.
Waters said he banned the handbook when he came director but it went underground among some band members.
"I never saw the 2012 version which included the Holocaust song. I think the whole idea is repulsive," he said in a statement Thursday.
Waters' firing came as a shock to many. At the time, his halftime shows were considered revolutionary. The morphing and dancing scenes designed on iPads garnered hundreds of thousands of hits on YouTube and landed the already celebrated band in an Apple commercial.
Waters has filed a $1 million defamation lawsuit in a state court, alleging the university damaged his reputation so much he can't find work despite previously being among the most respected directors in the field. He's separately pursuing a federal civil rights claim of gender discrimination.
The Associated Press contributed to this report.