Ohio school district installs 'tactical-grade' pepper spray as defense against active shooters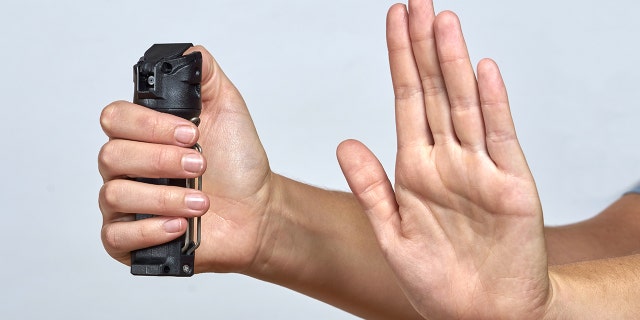 An Ohio school district will install a new safety measure for the upcoming school year in case of an active-shooter situation.
Pepper spray canisters will be placed throughout schools in the Columbiana Exempted Village School Districts that will send messages to law enforcement officials and teachers should they be used, WFMJ-TV reported Thursday.
The high-powered canisters, called Threat Extinguisher, will be placed in glass cases throughout the school. Once the canister is removed from its base, an alarm will sound and messages will be sent to first responders and a select group of contacts in the school with the time and location that it was activated, according to Threat Extinguisher's website.
"When the can is removed from the cabinet, it can send up to a thousand text message and emails, plus calls authorities and then gives the location of which Threat Extinguisher has been removed," Sam Fasone, a Threat Extinguisher spokesperson, told the news station. "So when authorities roll up, they know where they need to be in the building."
SCHOOL SHOOTINGS PROMPT MORE TEACHERS TO CONSIDER CARRYING GUNS
The school district paid $25,000 for the devices and will also pay a yearly upkeep fee, WFMJ reported.
The "tactical-grade" pepper-spray is designed to be easy to use in high-stress situations and can fire at distances of more than 20 feet away, according to Threat Extinguisher's website.
Threat Extinguisher pointed to the shootings at Sandy Hook Elementary School in 2012 and Planned Parenthood in Colorado in 2015 as the catalyst for the creation of the pepper spray. The founders "understood that there was still a high likelihood of loss of life in these events, but they knew the time had come to launch the system and work to help save lives because doing nothing was not an option," the company said.
TRUMP CALLS FOR ARMING TEACHERS, RAISING GUN PURCHASE AGE TO STOP 'SAVAGE SICKO' SHOOTERS
If someone activates a canisters when there isn't an actual threat, there will be consequences, officials said.
"They are calling the authorities and letting every teacher know what they did. In the schools we are in, it's just like pulling a fire alarm," Fasone said, adding that person would face the same consequences as pulling a fire alarm.
Columbiana Schools gathered input from the community before agreeing to implement the Threat Extinguishers, according to WFMJ.
Columbiana is located 83 miles east of Cleveland.