Ohio police offered to drive grieving man 100 miles to be with family after sister's death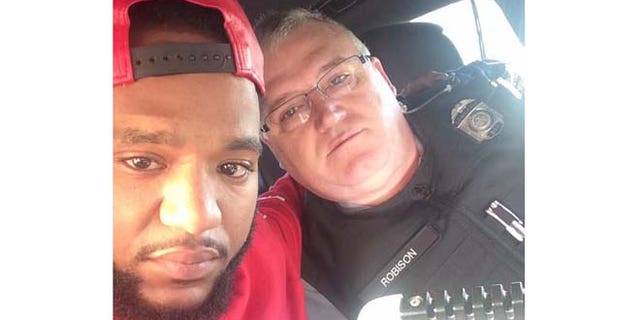 An Ohio police officer is being praised for a kind gesture that went beyond the call of duty.
Sgt. David Robison of the Ohio State Highway Patrol was working early Sunday when he pulled over a speeding vehicle on its way from Indiana to Detroit.
Inside the car was Mark Ross, who had just learned that his 15-year-old sister had been killed in a car accident. The driver, an aquaintance of Ross, had a suspended license. And Ross had an outstanding petty warrant in Wayne County, Mich.
But what happened next stunned the young man who said Robison's response "gave me hope."
After getting pulled over near Dayton, Ross said he thought he was going to jail due to the warrant.
"The police called Wayne County and they refused to come get me because of the distance," Ross wrote in a post that has since been shared more than 94,000 times on Facebook.
Instead, Robison offered to help get the man home.
"I explained to the officer that my sister had died and that I needed to get to my mother asap," Ross said. "I broke down crying and he saw the sincerity in my cry. He REACHES OVER AND BEGAN PRAYING OVER ME AND MY FAMILY. He offered to bring me 100 miles further to Detroit because they towed the vehicle."
Lt. Robert Sellers of the Ohio State Highway Patrol told FoxNews.com Wednesday that Robison was willing to drive Ross as close to Detroit as possible -- offering to take him to a midway point so that a friend or relative could pick him up from there.
"We offered to help him get to Michigan," Sellers told FoxNews.com. "He ended up getting there on his own but we did offer to drive him as close as we could."
Sellers confirmed that Ross and Robison prayed together when the young man told the officer of his loss.
In an interview with Inside Edition, Ross described the trooper's kindness as "overwhelming."
"They were trying to help us," he told the website.
The family -- grateful for Robison's actions -- reportedly invited him to the young girl's services.
"He's actually going to attend the funeral," Ross told the website.
Ross's heartwarming post immediately went viral -- amid growing tensions between law enforcement and black communities around the country. As of Monday morning, the post was shared 94,150 times on Facebook.