Ohio man calls police to report he's being followed by a pig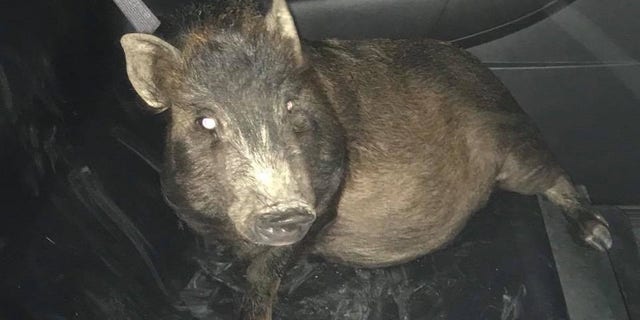 NEWYou can now listen to Fox News articles!
Police officers in Ohio were convinced a man who called 911 about a pig following him was drunk and hallucinating — but turns out the caller was telling the truth, and "very sober."
North Ridgeville police officers received a call just before 5:30 a.m. Saturday from a man who said a pig was following him while he was walking home from the Amtrak train station in Elyria, located about 30 miles west of Cleveland. The caller added that he "didn't know what to do," the department wrote in a Facebook post.
Police officers were skeptical to believe the man and thought he was intoxicated and walking home from the bar.
"Night shift responded to the obviously drunk guy walking home from the bar at 5:26 in the morning. He was at least drunk enough to call the police on himself while hallucinating," the police department said.
But the officers' theory was actually wrong. Not only was the man very sober and walking home from the train station (like he said), a pig was actually following him.
"Yes, a pig," the department added.
ARIZONA OFFICER'S BELT STOPS BULLET IN 'WAY TOO CLOSE A CALL' ENCOUNTER
One of the officers managed to get the pig into the police cruiser and take it to the city's dog kennel — that doubled as a pig pen for a few hours.
By 8:23 a.m. Saturday, the pig was returned to its owner, whose identity was not revealed, police said.
"You'd have thought we would have learned our lesson after the kangaroo incident," the police department said, referencing to a 2015 incident when a "runaway kangaroo" was located in the town.
The police department posted a photo of the pig in the police cruiser on Facebook, which received more than 21,000 reactions, 11,500 shares and more than 2,000 comments as of Sunday morning.