Ohio house fire: Couple, 5 children, family dog killed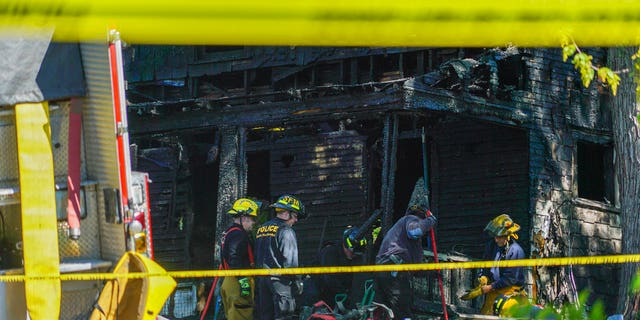 A couple, their five children, and family dog died after flames engulfed an Ohio home on Monday in one of the deadliest house fires Akron had ever seen.
A family member identified Dennis Huggins, 35, Angela Boggs, 38, and their children, Jered Boggs, 14, Daisia Huggins, 6, Kyle Huggins, 5, Alivia Huggins, 3, and 11-month-old Cameron Huggins, as those killed in the house fire about 30 miles south of Cleveland.
"I want my nieces, I want my nephews, you know, it's hard for me to explain to my grandchildren that my nieces and nephews, their cousins won't be around the play and spend the night," Dwayne Huggins, the brother of one of the victims, told Fox 8 Cleveland.
HIGH-RISE APARTMENT FIRE IN PITTSBURGH LEAVES 1 WOMAN DEAD
The fire started at the two-story home on Fultz Street about 3 a.m., officials said. Firefighters initially could not access the upper level of the home becuase of structural damage to the building.
"The heat is very intense, it affects the structure of the home pretty quickly, so in this fire we had to be very careful not to get firefighters injured or killed, it was a difficult battle," Akron fire chief Clarence Tucker said.
Though officials are still determining what caused the fire, it appeared to have started near the front of the home, firefighters said. A fire marshal's official said investigators used a dog while collecting evidence, but did not specify what was collected.
"You can never rule out the possibility of arson," Tucker said.
TEXAS HOUSE FIRE: 3 CHILDREN KILLED, 3 FAMILY MEMBERS CRITICALLY INJURED
Tyenny Huggins, Dennis Huggins' son, said he first found out about the fire after he tried contacting the family on Monday.
"I just saw my dad last night, and I feel like I'm going to see him tomorrow," Tyenny Huggins said. "I feel like I'm going to see him later on."
Huggins added, "I'm forever gonna miss him."
Relatives also described the couple as soft-spoken and gentle.
A GoFundMe account was created on Monday to help the family pay for funeral expenses.
The Associated Press contributed to this report.
Click here for more from Fox 8 Cleveland.