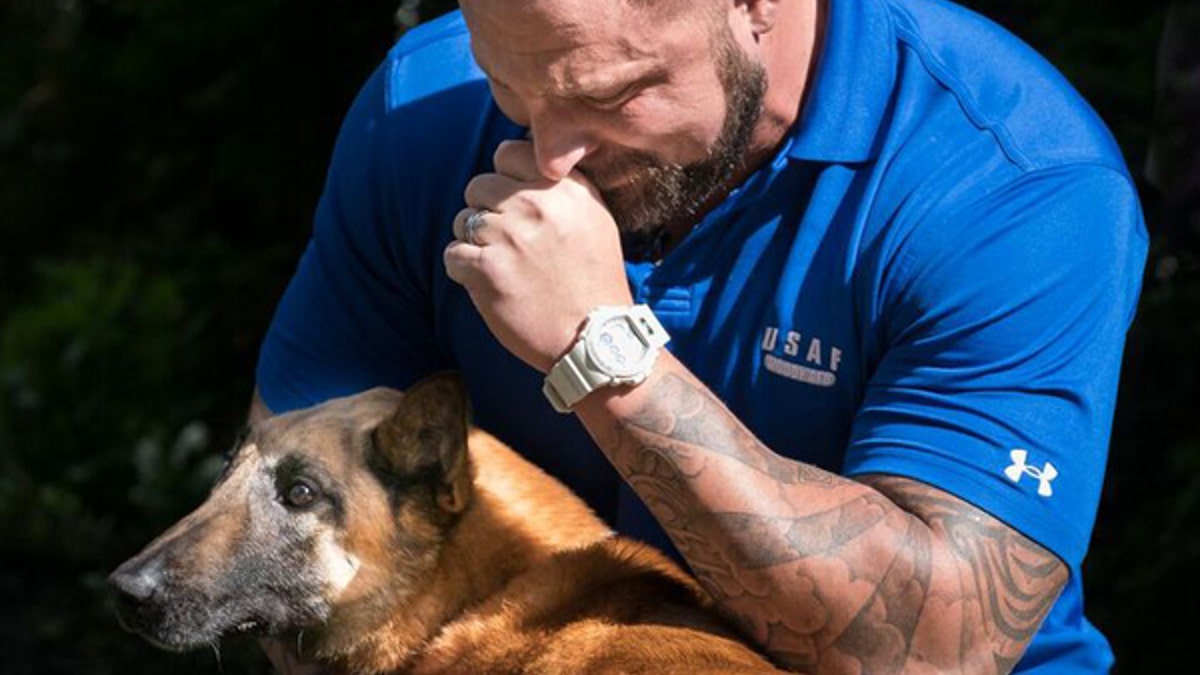 For U.S. Air Force Staff Sgt. Adam Wylie, "Emra" -- the 9-year-old Belgian Malinois he was forced to leave behind in South Korea -- was more than a service dog.
The canine filled the void of family when Wylie, a 12-year veteran of the armed forces, was deployed from 2012 to 2014 in South Korea where he was stationed around Osan Air Base.
"She meant the world to me," Wylie, 33, told Fox News.
The two -- separated for three years -- were reunited April 20 in Cincinnati in a heartwarming reunion that at first seemed improbable. Emra had retired as a service dog due to old age and the beginnings of arthritis -- and was living thousands of miles away from her former handler.
While in South Korea, Wylie and Emra were responsible for performing several patrol duties, including serving as "listening posts" to deter incursions by enemy personnel. The pair was also responsible for important safety sweeps during visits from top U.S. officials, like President Obama and Vice President Biden.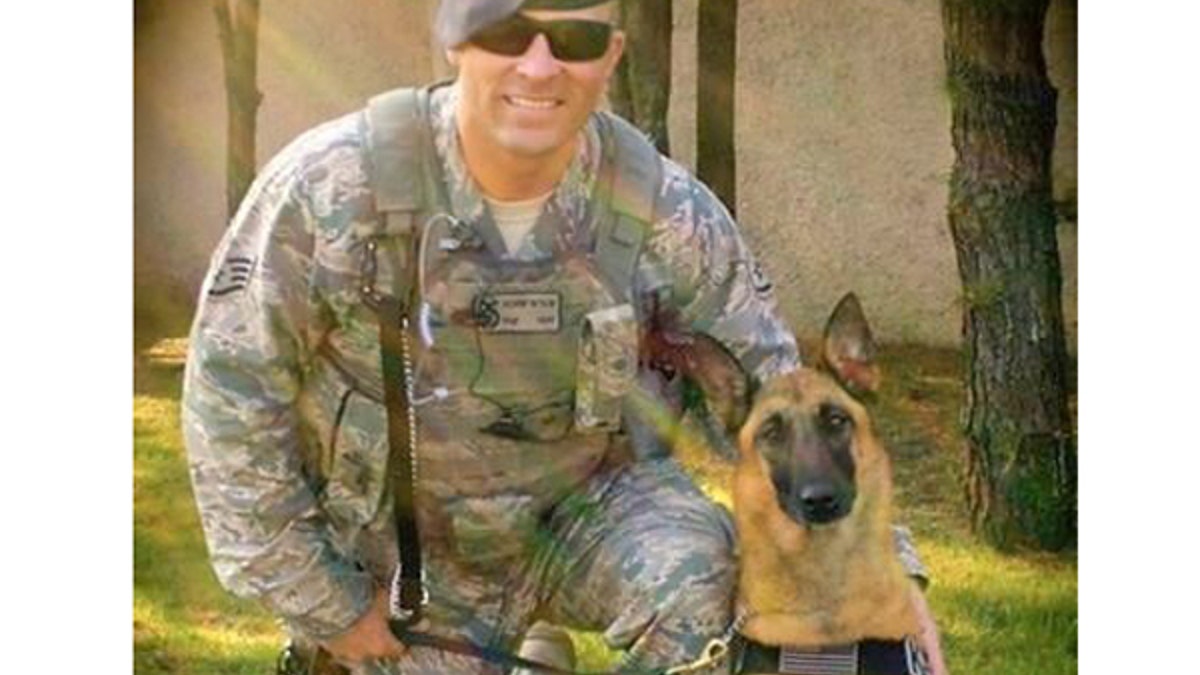 The two last saw each other in 2014. The reunion last week was made possible by American Humane, a Washington-based nonprofit group, which funded the costs of bringing Emra home to retire on U.S. soil. Wylie, his wife, Kelly, and their 4-year-old daughter, Chloe, adopted Emra upon her arrival at the family's home in Bethel, Ohio, 40 miles outside of Cincinnati.
"I was overcome by so many emotions, several of which I cannot even put into words," Wylie said of the reunion.
"Our reunification was more than just two battle buddies catching up on 'old times,' a part of my family was brought back to me," he said.
"Emra and I had such a strong bond in South Korea, but I will admit, my biggest fear was that she would not recognize me," he added. "But then it happened! She looked right at me, nuzzled into my neck, and licked my face. She had not forgotten the long shifts together posted out in the middle of nowhere or the endless hours training together."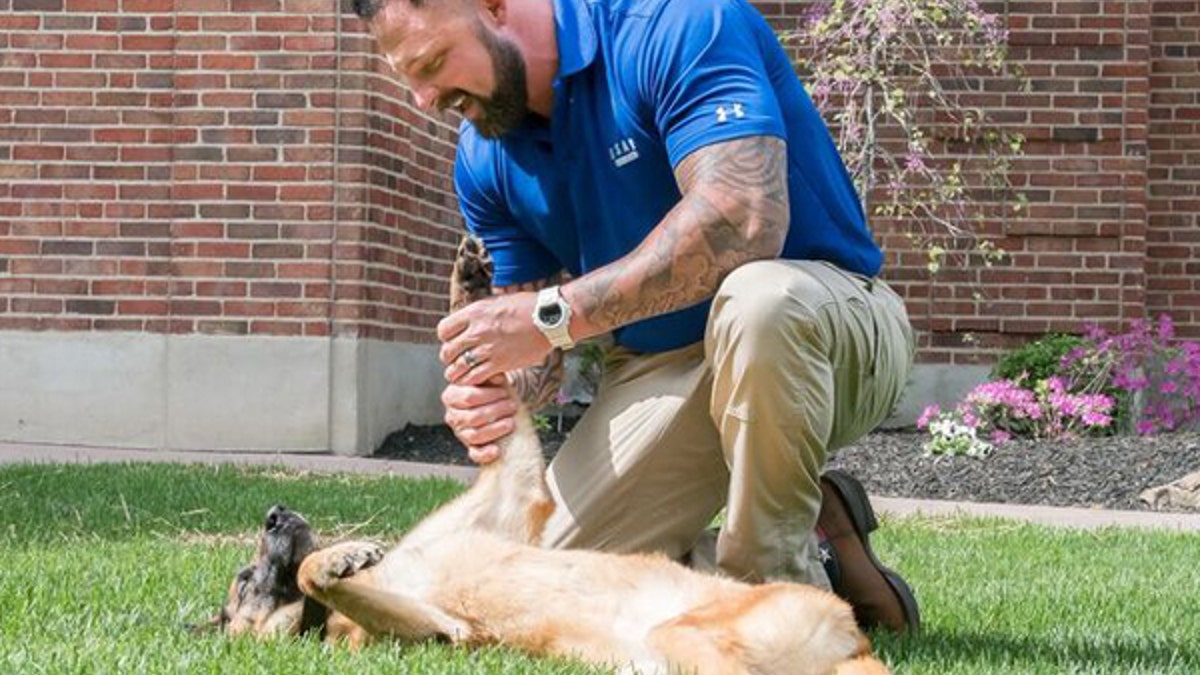 "We are inseparable now, just like we were for our two years serving together," he said.
Wylie, who is currently on leave, plans to retire from the Air Force in May and start a new career as a K-9 handler and security specialist with the U.S. State Department, where he will serve at various undisclosed locations around the world.
American Humane, meanwhile, said it was "honored to reunite two American military heroes and best friends," adding that it plans to provide free veterinary care for the dog.
"Bringing Emra home to retire on U.S. soil was the very least all of us as Americans could do to express our gratitude for her extraordinary service and sacrifices on behalf of our nation," the group said.