Officials don't expect decline in tourism from Custer fire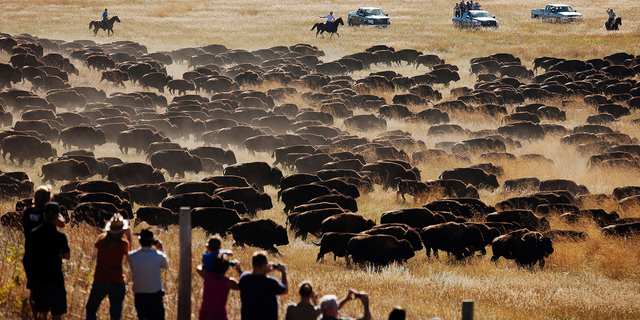 SIOUX FALL, S.D. – Elisabeth Weakland has read updates and scrolled through pictures online from a historic wildfire that started last week at South Dakota's Custer State Park, but the Michigan homemaker said her family doesn't plan to cancel their summer trip to the Black Hills.
She had worried that park campgrounds would be damaged, potentially requiring earlier booking, but officials say no main buildings or campsites burned. Weakland said her children are excited to head west for the June trip, and the family plans to book a site for their pop-up camper after the holidays.
"My kids still really want to go out," Weakland said. "It's unfortunate that it happened, but we're still just as excited to get out there."
South Dakota tourism officials don't expect the wildfire to hurt next year's visitor numbers or attendance at the park's famous buffalo roundup. The park reopened on a limited basis Monday, and officials hope it's fully available to visitors by the weekend.
Tourism Secretary Jim Hagen said a silver lining is that the fire burned in December, not during peak travel season. Hagen said the feedback his office has received from people has been sparse and positive, which he counted as encouraging.
"The visitors or potential visitors who've contacted us have really rallied around the state and rallied around the park," Hagen said. "I think when it comes to peak travel season late next spring, we're still going to see those visitors."
Custer State Park is a top South Dakota tourist destination, featuring hills with ponderosa pine and prairie. Visitors often drive to see roaming buffalo, elk and bighorn sheep, and the park hosts the annual buffalo roundup. The park had drawn more than 1.9 million visitors through Nov. 30, and roughly 21,200 people attended the 2017 roundup, according to the Tourism Department.
The fire burned more than 84 square miles (218 square kilometers) in the park and beyond its borders since it started from a downed power line on Dec. 11. More than half the park was burned, making it the largest fire in its nearly 100-year history, Superintendent Matt Snyder said.
But he said the blaze consumed vegetation and grasses without burning hot enough to sterilize the ground. Snyder said moisture over the winter and beyond should allow for a "nice green up like we expect every spring."
Snyder said visitors can expect to see some pockets of burned trees and charred wood, but officials anticipate most of the trees will come back.
December is a quiet time for Custer, Snyder said. The park's four resorts will open like normal come spring, with the peak season running from Memorial Day through the end of September.
"We're not going to miss a beat over this when it comes time for the tourists to come in, and we're going to be ready for them," Snyder said.
Minneapolis firefighter Andre Plante, whose family stays in the same Custer State Park cabin each visit, said he was worried the wildfire would burn it down. But he said the family would have still visited if the cabin hadn't escaped the blaze.
Plante said he enjoys sitting out at night as moonlight reflects off a canyon's walls and the wind blows through the trees. He called it "haunting."
"We fell in love with it the first time we were up there, and we decided it would be our place for summer vacations," said Plante, whose family has their cabin reserved in June. "I'd go there over Disneyland any friggin' day of the week and twice on Sunday."