Officials: 3 killed at race track were known gang members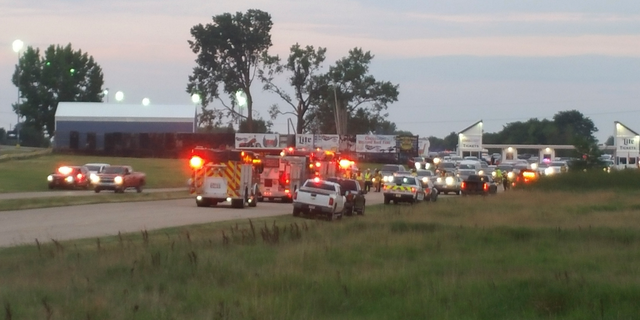 PARIS, Wis. – Three Illinois men whom authorities believe were gang members may have been targeted by a rival when they were shot to death at close range during a drag racing event in southeastern Wisconsin, sheriff's officials said Monday.
The three men were fatally shot as they stood near a concession area in the parking lot of the Great Lakes Dragaway in the town of Paris at about 7 p.m. Sunday, according to Kenosha County sheriff's officials.
Sheriff David Beth said authorities are still looking for the male gunman who first shot two of the three men, shot the third as he tried to get away around a tent and then returned and shot the two others a second time.
"He had enough time and enough arrogance to go back up and actually make sure that they were dead," Beth said at an afternoon news conference. The shooting happened as some 15,000 people attended "Larry's Fun Fest" at the raceway on a mild Sunday evening. No one else was hit by gunfire, authorities said.
A lack of cooperation by the victims' relatives has made his detectives' work harder, the sheriff said.
"At least the family members that I'm aware of are not cooperating at all with the investigation. It has not helped us," Beth said.
The Kenosha County Sheriff's Office said Monday the victims of Sunday night's shooting were 30-year-old David L. Watson of Oswego, 30-year-old Khalid R. Howard or Aurora, and 26-year-old Derek K. Edwards of North Aurora. Howard and Edwards died at the scene and Watson died in an ambulance on the way to a hospital, according to sheriff's Sgt. Mark Malecki, who said the victims have been identified by investigators as gang members.
Malecki said deputies were investigating the possibility that the assailant was a rival gang member. Beth said no motive has yet been established.
"I don't know if this is retaliation. I don't know if this was family trouble. I don't know," the sheriff said.
Two of the men died at the scene and the third died in an ambulance on the way to a hospital.
Beth urged any witnesses to the shooting to contact his department.
"A lot of people may not have wanted to come up and talk to the sheriff's department initially because maybe they were afraid someone was going to see them," Beth said. "So what I'm hoping happens is someone who knows what's going on or saw what happened will call us, give us more information and help us catch the individual who did this."
Great Lakes Dragaway's website said the event included drag racing, tailgating, live entertainment and a car show. The event is about 30 miles (48 kilometers) south of Milwaukee.
____
Find Ivan Moreno on Twitter: https://twitter.com/Ivanjourno . Gretchen Ehlke reported from Milwaukee. Find Ehlke on Twitter: https://twitter.com/gehlke .