Officer who stopped Minnesota mall stabbing speaks out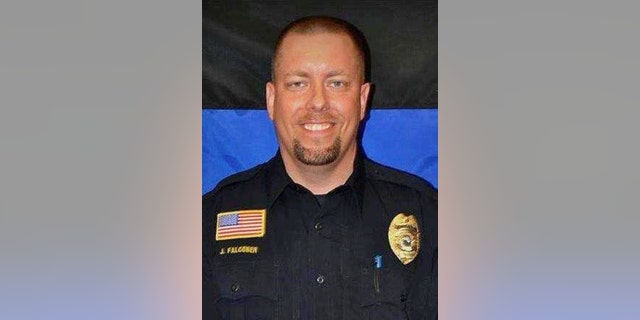 ST. CLOUD, Minn. – One year after a Somali-American man went on a stabbing attack at a St. Cloud mall, injuring 10 people, city leaders say fears that the attack would divide this central Minnesota community have not materialized, but others say underlying racial tension continues to exist.
Meanwhile, the off-duty police officer who shot and killed the suspect is speaking out for the first time, and says he hopes other officers would have done the same thing in his situation.
Dahir Ahmed Adan, 20, stabbed 10 people at Crossroads Center mall in St. Cloud last Sept. 17 before he was shot and killed by Jason Falconer, an off-duty police officer from the nearby city of Avon. The FBI has said that Adan may have been radicalized and that the attack was preplanned.
Falconer told KNSI radio he was shopping for a gift for his son when he saw people running from a man in a security uniform. He said Adan asked Falconer if he was a Muslim, and Falconer replied "no." He noticed Adan had "crazy eyes."
When Adan turned away, Falconer saw he had a knife in each hand. Falconer identified himself as an officer, and at one point, it seemed Adan followed Falconer's commands to lie down.
"I didn't hear it but witnesses said he counted down 3,2,1 and jumped up and charged at me. And as he charged at me is when my first volley of shots took place," Falconer said. While some call Falconer a hero, he said: "I'd hope to believe that another off-duty officer put in my situation would have done the same thing."
Shortly after the attacks, an Islamic State-run news agency claimed Adan was a "soldier of the Islamic State" who heeded the group's calls for attacks in countries that are part of a U.S.-led anti-IS coalition. Authorities have released no evidence linking him to extremist groups, and the investigation is ongoing.
But terrorism concerns raised fears of a backlash against the area's Somali-American community.
St. Cloud Mayor Dave Kleis said those fears came to nothing. And St. Cloud police Chief Blair Anderson told Minnesota Public Radio that he's seen no spike in threats or incidents targeting Somalis in the past year.
But Natalie Ringsmuth, founder of #UniteCloud, said some people use the attack as a reason to fear Muslims.
"There were people in the Muslim community in this area that were yelled at before the stabbing and they get yelled at still after the stabbing," Ringsmuth said. "There are people that have threats sent to their house because they are a member of our community that are Somali and Muslim. It happened before the stabbing and it happens after the stabbing."
Kleis said the city is encouraging residents to get to know their neighbors as a way to break down stereotypes.
"The more we get to know each other, the more we get to know your neighbors the more you have communication," Kleis said, "the more trust you have and the more trust you have, the more prosperous your community will be, and the more resilient it will be in times of tragedy."