Oakland sports teams donating to fire victims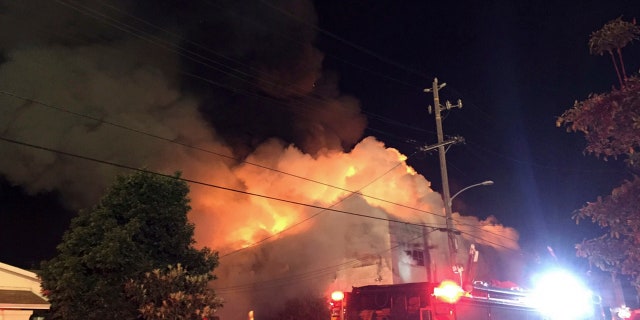 NEWYou can now listen to Fox News articles!
The NFL Oakland Raiders are teaming up with the Major League Baseball's Oakland A's to aid those affected by Friday's warehouse fire that killed 9 and left nearly two dozen people missing.
The Raiders have pledged to match up to $30,000 in contributions through the YouCaring.com page set up by the A's.

The NBA Golden State Warriors are also donating $50,000 to help families affected by the deadly fire. The team says the money will go to the Unity Council in the Fruitvale district of Oakland, a nonprofit that assists members of the community.
Golden State head coach Steve Kerr said before Saturday's game, "We're all with you out there. We're all devastated today." A moment of silence was also observed.
Firefighters responded to the three-alarm fire at the warehouse in Oakland around 11:30 p.m. local time Friday. They fought the fire for hours before putting it out.
Officials said about 50 to 100 people were believed to be inside the two-story building when the fire broke out. People either got out unscathed or were trapped inside the structure.
On Saturday the 4,000-square-foot structure charred to rubble. The building's roof had collapsed into the second floor, which in places fell to the bottom floor. Firefighters had to temporarily stop their search and rescue operations Saturday when they became too dangerous, taking time to shore up the structure, Oakland deputy fire chief Mark Hoffmann said.
Oakland officials said they had opened an investigation just last month into the warehouse after repeated complaints from neighbors who said trash was piling up and people were illegally living in the building, which was zoned as a warehouse.
Officials urged those concerned about missing people to call the Alameda County Sheriff's Coroner's Bureau at 510-382-3000.
The Associated Press contributed to this report.