Oakland Police Dept. works without an acting chief after 3 step down in 8 days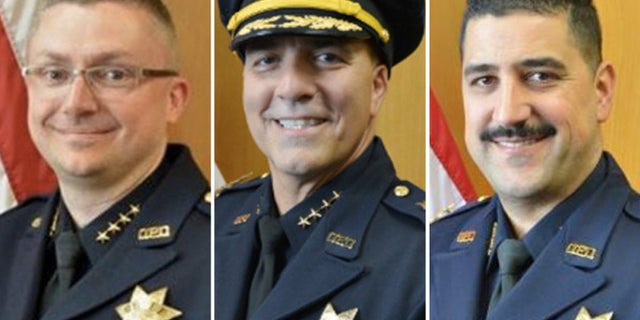 After Oakland lost three police chiefs in just eight days amid a string of bombshell accusations involving racist text messages and prostitution, city officials decided that for now, the department can operate without any chief at all.
State officials initially balked at Mayor Libby Schaaf's proposal to have police commanders report directly to the city administrator, claiming such a plan would be illegal -- but they dropped their opposition late Monday, the San Francisco Chronicle reported.
Chief Sean Whent suddenly resigned June 9 after investigators revealed that several officers had sex with a teenage prostitute, in some cases when she was underage.
The mayor appointed Bay Area Rapid Transit Assistant Police Chief Ben Fairow as a temporary replacement, but fired him last Wednesday after learning unspecified information that led her to lose confidence in his ability to lead the beleaguered department.
Then Schaaf apponted Paul Figueroa as an acting chief. She said he stepped down on Friday but claimed his decision was not connected to any scandal. She revealed officials were investigating racist text messages that she said were "wholly inappropriate and not acceptable from anyone who wears the badge of the Oakland Police Department."
The mayor denounced the department's "toxic, macho culture" and vowed to root out "the bad apples." She added, "As the mayor of Oakland, I'm here to run a police department, not a frat house."
At least 14 officers are mired in the sex scandal, and Schaaf said the number of officers involved with the racist texts is smaller. Still, she cautioned that the investigation was ongoing. One of the officers under investigation in the text scandal has been placed on leave, she said.
Some of the officers being investigated were "engaging in hate speech," and others were "tolerating it" by receiving offensive messages and not reporting them, Schaaf said.
She said Figueroa has taken a leave of absence and asked to return to the force as a captain, not as an assistant chief.
Two officers with the troubled Oakland department have resigned amid the sex scandal, and three others remain on paid leave.
The mayor said City Administrator Sabrina Landreth would be responsible for the department's administrative decisions moving forward. "I want to assure the citizens of Oakland that we are hell bent on rooting out this disgusting culture."
The department already was under federal oversight over past failures to adequately hold officers accountable for misdeeds that included planting evidence and robbing residents in predominantly black west Oakland.
The Associated Press contributed to this report.