NYPD seeks answers 22 years after Baby Hope died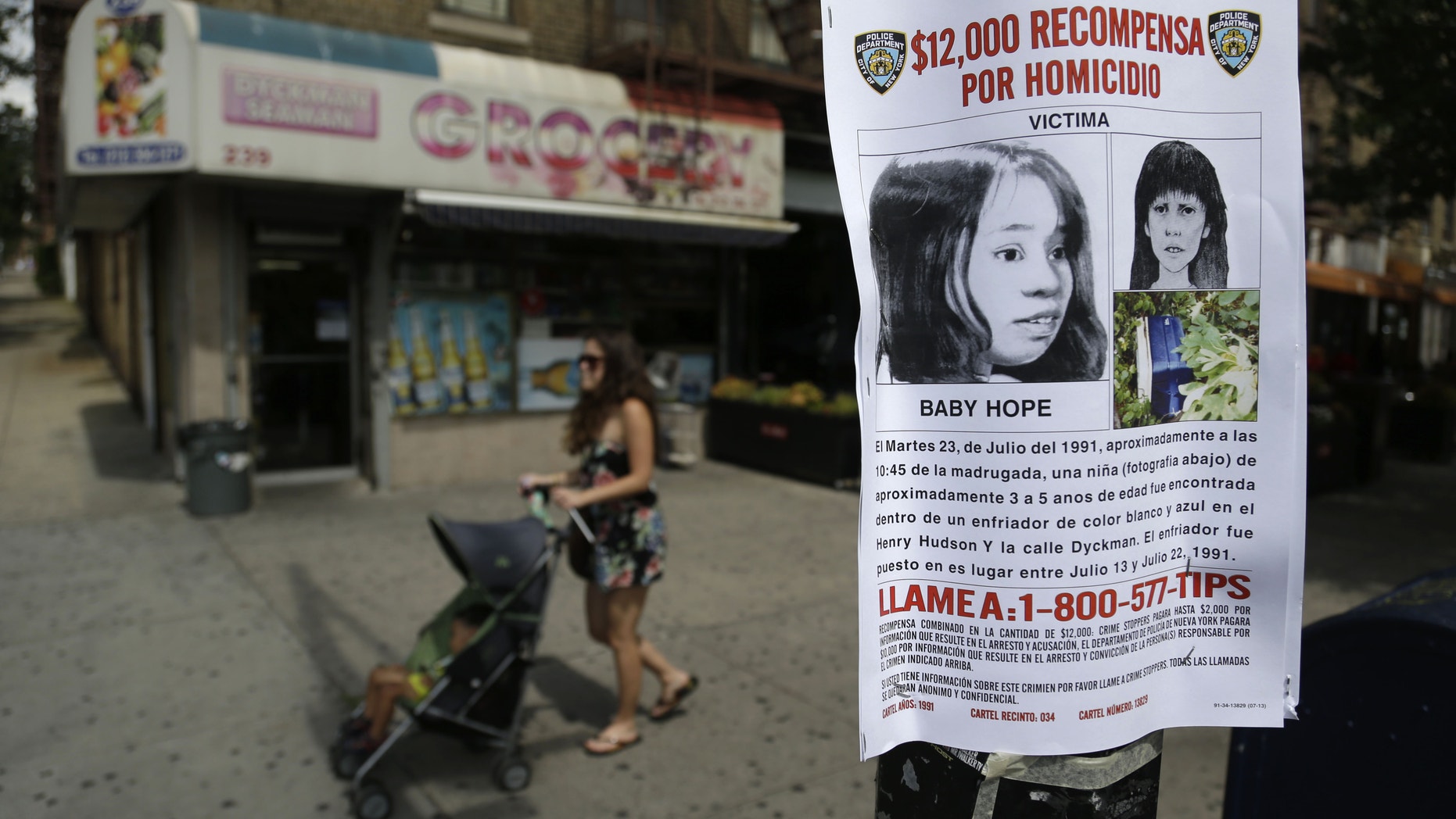 NEW YORK – It was more than 20 years ago when a highway worker smelled something rotting inside a picnic cooler discarded near the Henry Hudson Parkway in New York City. He flipped it over and out tumbled the bound, decomposing body of a little girl and a few full cans of Coke.
Despite the efforts of New York Police Department detectives who worked the case for years, she remains anonymous even today, known only as Baby Hope, age 3 to 5. On July 23, the 22nd anniversary of the discovery, cold-case detectives canvassed the Manhattan neighborhood near where the blue cooler was tossed, plastered notices on signposts and announced a $12,000 reward for any information leading to an arrest and conviction in the unsolved crime.
"My main goal is to ID this girl," said Det. Robert Dewhurst of the Cold Case Apprehension Squad. "Somebody's gotta know this kid. This girl had somewhat of a life with people who should know who she is ... friends, family, somebody."
Dewhurst says if they could just figure out her name, they can finally identify her killer.
Baby Hope is one of 650 unidentified children ages 1 to 21 in a database at the National Center for Missing and Exploited Children, according to Bob Lowery, the executive director of the missing children's division. But there are probably thousands of unidentified kids nationwide, he said. A newer, government-run national database known as the National Missing and Unidentified Persons System has details on more than 10,000 people of all ages.
Workers at the center try to match the unidentified in their database with their vast lists of missing children, but the painstaking process doesn't often yield results.
"Even though they are tragedies, some good may come. It's very helpful for law enforcement to have the name so they can investigate," Lowery said. "And for parents and loved ones who can get the answers they've been looking for."
But that's not likely the case for Baby Hope, detectives say. Her body was found naked and malnourished and showed signs of possible sex abuse. Retired Det. Jerry Giorgio, who worked the case from the beginning, said their theory was she was dumped there by the people who were supposed to be caring for her. They abused her and eventually suffocated her.
Detectives believe she was dead six to eight days before the cooler was found, on an incline, dumped on the grass like garbage.
Giorgio, now 79, who retired in June after more than a half century in law enforcement, said he pursued hundreds of leads but none panned out. He had the case from 1991, when she was found, until he retired from the force. Later, as an investigator for the Manhattan District Attorney's Office, he kept up with it. His name and contact information are still on a website dedicated to the girl.
"It was so frustrating," he said recently. "We initially thought we'll get her identified and go from there and probably solve the case. It didn't happen."
As the frustration mounted, so did the detectives' affection for the victim. They began calling her "our baby." Eventually it became "Baby Hope" -- because they hoped and prayed they'd solve the case, Giorgio said. He was instrumental in organizing a burial in a Bronx cemetery for the girl in 1993. Hundreds attended the funeral. The girl was dressed in a white frock and buried in a white coffin.
"If calls came in, if inquiries came in, even years later, a lot of people would call me and ask me about it," he said. "I would always go back and see if we could use the information to help solve the case. It just never clicked. We never got the right information."
Her body was exhumed in 2007 by the medical examiner's office for DNA testing, but none could be extracted because of the body's poor condition. A second attempt was made in 2011 with better technology, but the medical examiner's office couldn't get a complete sample.
This week, detectives circulated fliers with several images. The first photo is a current age-progression sketch of the victim. The second is the sketch from 1991, and the third photo is the cooler.
Dewhurst hopes that the fliers will jog the memory of someone -- anyone -- an adult who remembers a childhood friend who just disappeared one day, a former neighbor who lived near a dark-haired girl and then suddenly did not.
"I believe the people of New York want to know who this little girl is," he said.
Giorgio is haunted by Baby Hope. He has visited her grave every year on the anniversary of her discovery, except for this year because he was ill.
"This case can be solved," he said. "It can be solved by someone that knew these people and gained some knowledge about the case, and when the bad guys pass away, maybe someone will step up, finally."