NYPD officer's act of kindness goes viral on Facebook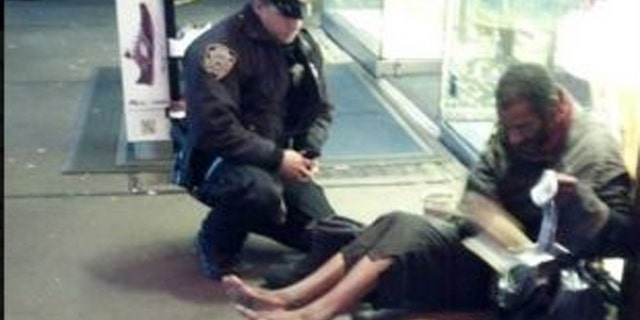 NEWYou can now listen to Fox News articles!
NEW YORK – An NYPD officer's act of kindness has gone viral on Facebook.
Jennifer Foster, a Florence, Ariz., tourist, posted a photograph of the officer giving a homeless man a pair of boots and socks on a frigid night in Times Square on Nov. 17.
"'I have these size 12 boots for you, they are all-weather. Let's put them on and take care of you,"' Foster quoted DePrimo as saying to the homeless man. "The officer squatted down on the ground and proceeded to put socks and the new boots on this man. The officer expected NOTHING in return and did not know I was watching."
The image became an instant hit on the NYPD's Facebook page. More than 308,861 users "liked" his generosity as of Thursday morning.
Newsday identified him as Larry DePrimo of Holbrook, Long Island. He's assigned to the 6th Precinct in Manhattan.
The homeless man said he'd never had a pair of shoes. DePrimo purchased a pair of insulated boots and thermal socks and put them on the man's feet.
DePrimo said the man "smiled from ear to ear. It was like you gave him a million dollars."
He told The New York Times that "it was freezing out and you could see the blisters on the man's feet. I had two pairs of socks and I was still cold." He learned the man's shoe size was 12.
The police officer went into a nearby Sketchers shoe store and the manager offered him his employees' discount, which brought the price of the boots from $100 to $75, the paper reported.
"Most of us are New Yorkers and we just kind of pass by that kind of thing," Jose Cano, 28, a manager at the store, told the Times. "Especially in this neighborhood."