NYPD officer acquitted of murdering mentally ill woman as unions slam charges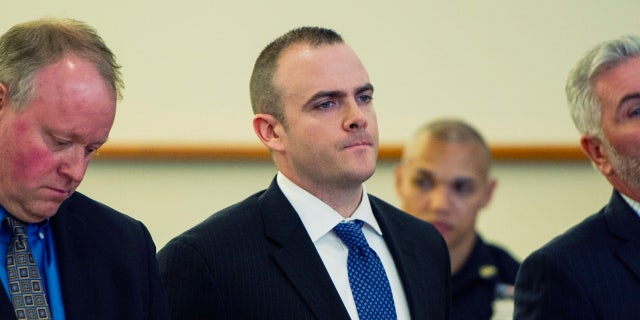 An NYPD officer was acquitted by a judge Thursday after being charged in the death of mentally ill woman in her New York apartment.
Sgt. Hugh Barry of the New York Police Department was found not guilty of murder, manslaughter and criminally negligent homicide in the October 2016 death of Deborah Danner.
Officers were called to Danner's Bronx apartment on October 17, 2016, something that had happened several times before. Barry testified that he had felt threatened by Danner, who had used scissors and a bat to thwart off police.
He drew his gun and pleaded with her to drop the bat. When she stepped forward, Barry fired his weapon.
"I just see the bat swinging and that's when I fired," he said. "I'm looking at this bat that can crack me in the head and kill me."
Prosecutors said Danner's death resulted from numerous failures by the eight-year department veteran.
Despite cheers for Barry's acquittal, city police unions blasted Mayor Bill de Blasio and NYPD Commissioner James O'Neill for allowing him to be charged with a top homicide count.
Sgt. Ed Mullins, head of the Sergeants Benevolent Association, said that Barry "was wronged all along, and it's up now to the commissioner to make it right," the Daily News reported.
"What I saw was the police commissioner play politics," he went on to say. "I saw a mayor play politics and a district attorney play politics. He owes him an apology. The mayor owes him an apology. And so does the district attorney."
The Sergeants Benevolent Association posted a picture of the three men with the caption, "Three Blind Mice. See how… 'They Failed'!"
Barry still will face an internal investigation.