NYPD investigating 'ISIS selfies' outside NYC museum: report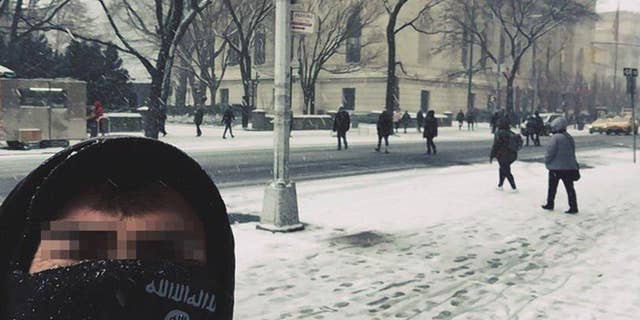 Authorities in New York are reportedly investigating photographs of a possible ISIS supporter taking selfies outside the Metropolitan Museum of Art and in view of One World Trade Center.
The chilling images, that began circulating on social media over the weekend, shows an individual posing while wearing an ISIS-branded scarf over his face.
The picture was captioned with "We are in your own Backyard," according to The New York Daily News.
"The NYPD is aware of the photograph. As with all terror related threats, the NYPD is looking into the incident. At this time there are no credible threats related to New York City," an NYPD spokesman told the newspaper on Tuesday.
Another photograph subject to the investigation is a snap of a person holding a phone with an ISIS flag in the shadows of the One World Trade Center building. The image was reportedly taken in a similar spot where, weeks later, the Manhattan truck attacker killed eight people.
Eric Feinberg, the co-founder of GIPEC, a cyber-intelligence company that tracks terrorism-related hashtags, told the Daily News that imagery like that are aimed at spreading fear and possibly inspiring so-called lone wolf attacks.
But he warned that it remains unclear whether the pictures are authentic, adding that they may have been doctored. "Maybe it's Photoshopped, maybe it's not. It should be taken seriously," he said.
The attempts to induce fear and inspire lone jihadists have increased since ISIS' retreat in Iraq and Syria, where the group lost most of its territory and fighters to the U.S.-led military campaign. Increasingly, the group tends to focus on inciting terror attacks in Europe and the U.S. rather than recruiting militants to the "Caliphate."
Last month, a Bangladeshi man, Akayed Ullah, reportedly inspired by the terror group attempted to commit a bomb attack inside New York's Port Authority bus terminal during rush hour.