NYPD cops plead not guilty to rape charges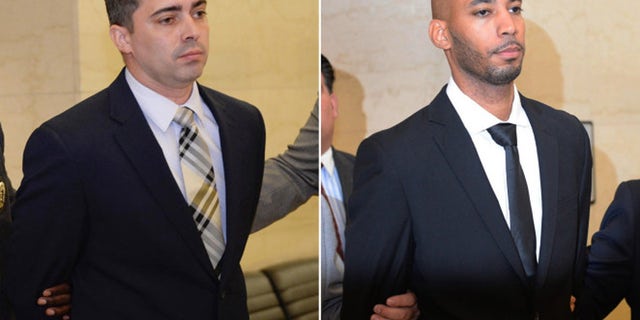 The two NYPD officers indicted on first-degree rape charges for forcing themselves on a cuffed 18-year-old ​woman ​in a police van last month have pleaded not guilty to the disturbing charges — as their attorneys tried to paint the victim as a willing participant.
Officers Eddie Martins and Richard Hall turned themselves in early Monday, and left their arraignment ​after posting $250,000 and $150,000​ bail bonds​​, respectively,​ ordered by Brooklyn Supreme Court Justice Danny Chun.
The victim, who ​uses the social media pseudonym Anna Chambers, said cops found marijuana Sept. 15 and took her to a Chipotle parking lot, where Martins allegedly raped her and both men forced her to perform oral sex on them in exchange for letting her walk free, according to her lawyer, Michael David.
But the defense is calling the 50-count indictment "schizophrenic" because the​ cops are being charged with forcible rape and also bribery — which the defense claims are mutually exclusive​, claiming bribery implies an agreed-upon and mutually beneficial arrangement.
"The problem is, which is it? Is it a scenario in which these two men grotesquely violated this woman? Or was it a quid pro quo sexual agreement? It seems to me that the DA is not fully invested in the accuser's account," said Martins' attorney, Mark Bederow. "Pick one, you can't have both."
The officers were wearing plain clothes and displaying their shields when they stopped a car containing Chambers and two men inside Calvert Vaux Park in Gravesend and found the drugs.
Click here for more from The New York Post.