NYC bus catches fire in midtown Manhattan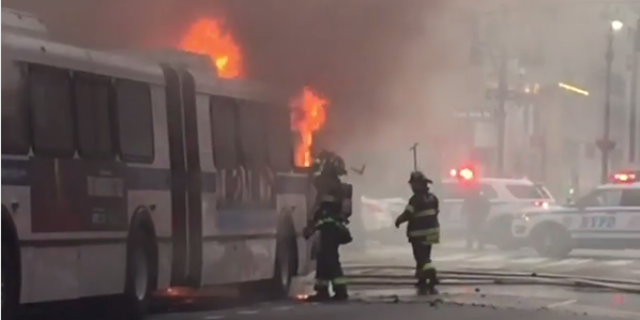 A New York City bus caught fire in midtown Manhattan Thursday not far from Grand Central Terminal as the morning rush got under way, witnesses said, with at least one describing it as an "explosion."
Photos and video from the scene showed flames and smoke erupting from one side of the bus, with the windows blown out.
WIFE OF TEXAS CHURCH BUS DRIVER KILLED IN CRASH IS FOUND DEAD IN HOME
The fire broke out around 6:40 a.m. ET and crews extinguished it after about an hour, The New York Post reported. It happened near the corner of Lexington Ave. and E. 46th St.
No passengers were on the bus at the time and nobody was hurt, WCBS reported.
The cause of the fire was unclear. It started in the back of the bus, Metropolitan Transit Authority spokesman Christopher McKniff said.
Click for more from The New York Post.
The Associated Press contributed to this report.