Nyad crosses through storm in third Cuba-Florida swim attempt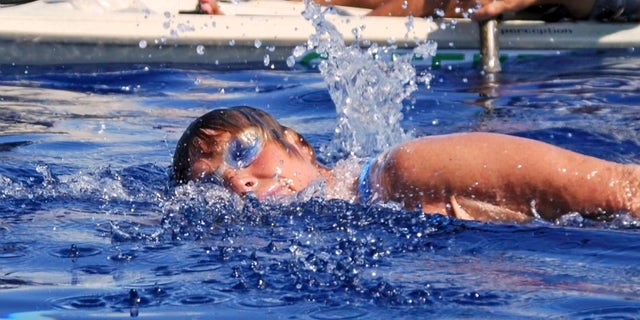 NEWYou can now listen to Fox News articles!
HAVANA – Open-water swimmer Diana Nyad pushed through dark waters early Monday as she tried to complete a record 103-mile, unassisted swim without the aid of a shark cage.
Her team had been trying to find a path through a storm that was nearly stationary over the 62-year-old Los Angeles woman. But they said Nyad was safe and feeling strong as she swims.
Her team was hoping she could capitalize on a great day of swimming Sunday.
"Today was an awesome day," Mark Sollinger, her operations chief, said in blog posting Sunday night.
Sollinger said the crew accompanying her in watercraft played her music by the Black Eyed Peas.
Nyad has already edured jellyfish stings on the current attempt. Stings forced her to cut short her second of two attempts last year as toxins built up in her system.
Nyad, who turns 63 Wednesday, is making her third attempt since last summer at a cage-less crossing of the Straits of Florida. She also made a failed try with a cage in 1978.
Australian Susie Maroney successfully swam the Straits in 1997, but she used a used a cage. This June another Australian, Penny Palfrey, made it 79 miles toward Florida without a cage before strong currents forced her to abandon the attempt.
A kayak-borne apparatus shadowing Nyad helps keep sharks at bay by generating a faint electric field that is not noticeable to humans. A team of handlers is always on alert to dive in and distract any sharks that make it through.
Nyad has been training for three years and is in peak shape, according to friend and trainer Bonnie Stoll.
The team expects Nyad will take at least 60 hours to complete the swim, meaning she would arrive in the Florida Keys sometime Tuesday. She was more than 34 hours into the swim early Monday.
She takes periodic short breaks to rest, hydrate and eat high-energy foods like peanut butter.