NY police arrest robbery suspect hit by victim's shoe in surveillance video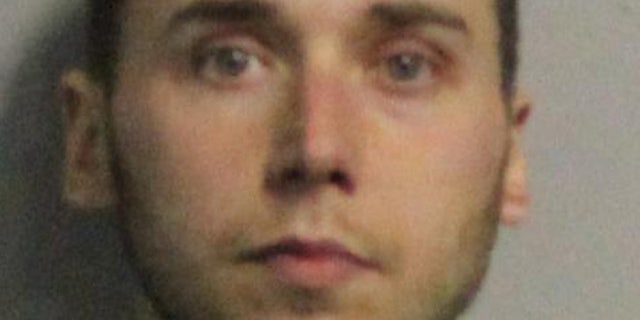 NEWYou can now listen to Fox News articles!
The man seen on surveillance video being struck with a shoe when he tried to rob a gas station convenience store has been arrested, New York State Police announced Saturday.
Police say on the evening of Dec. 15, a shotgun-wielding Christopher Dam, 26 of Hyde Park, entered a Citgo Station in Staatsburg and demanded money from store owner, Amrik Singh, who was behind the counter at the time, the Daily Freeman in Kingston reported.
Surveillance video released by police the day after the robbery showed that at first Singh cooperated. He put money in a plastic bag that had been tossed at him. But when the gunman reached across the counter to grab more money, Singh grabbed his right arm and threw a shoe that hit him in the head, the paper reported.
The video then showed Singh chasing the suspect into the parking lot.
Staatsburg Robbery Investigation

**PLEASE SHARE** Troop K - The New York State Police in Rhinebeck are investigating an armed robbery at the Route 9 Mini Mart Citgo Station, 4912 Route 9 in Staatsburg, NY.On December 15, 2015, at approximately 8:00 p.m., a white male entered the gas station holding a shotgun. The suspect demanded money from the clerk. The clerk attempted to overpower the suspect and the suspect fled the store. A short struggle ensued outside of the store where the suspect fired a round from the shotgun striking the ground. The suspect is described as approximately 5'10" tall with a thin build, wearing a camouflage mask and clothing.The suspect fled the scene northbound on Route 9 in a dark colored vehicle with orange NY plates. Any person with information is requested to contact:Investigator Robert Torre at SP Rhinebeck (845) 876-4049, (845) 677-7300, or e-mail Robert.torre@troopers.ny.govPLEASE DO NOT POST TIPS ON FACEBOOK

Posted by New York State Police on Wednesday, December 16, 2015
Police said there was then a short struggle that ended with the suspect firing a round from the shotgun that struck the ground, according to the paper.
State police credit the release of the video to the media and to social media sites with helping to nab Dam.
He was charged with attempted robbery and criminal use of firearm after his arrest Friday, police said.