NY man wins more than $700G from lottery ticket found after Superstorm Sandy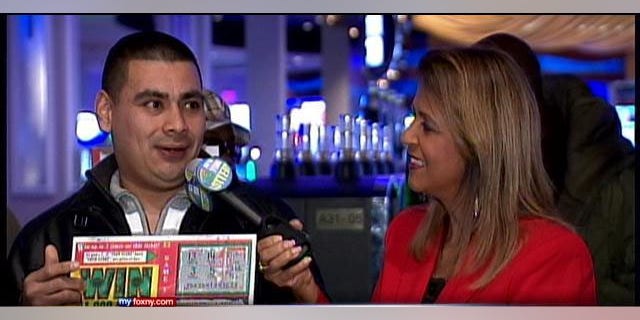 It was the ultimate case of delayed gratification for 27-year-old Marvin Rosales-Martinez.
The Hicksville, N.Y. man was working as a landscaper one month after Superstorm Sandy rocked the tri-state area when he stumbled upon a winning lottery ticket worth $1 million.
"My co-worker was blowing the leaves and I was collecting them when I saw the ticket hiding between wet leaves," Martinez told the New York Post. "I still don't know what made me pick it up."
After drying the ticket underneath a lamp, Martinez took it to a local New York Lottery office on Long Island, where he was told officials would have to investigate the case. Martinez forgot all about the ticket until three weeks ago, when lottery officials contacted him and told him that because no one else had claimed the ticket in the year-long waiting period, the ticket and the winnings were rightfully his.
Martinez, who immigrated to the U.S. from El Salvador in 2007 elected to take a lump-sum payment of $779,106 -- $515,612 after taxes. He told the Post that he plans to send some of the money to relatives in El Salvador and use the rest to buy a house for him and his wife, help his mother pay off Sandy repairs on her house "and maybe switch jobs and become a truck driver."