'Not worth saving in a fire': Pint-size conservative CJ Pearson claims teacher dissed him
The pint-sized Georgia firebrand whose videos blasting President Obama and espousing conservative values have drawn millions of online views sparked a controversy - and an investigation - this week with the claim that a former teacher said he was "not worth saving in a fire."
CJ Pearson, 13, and now in the eighth grade, wrote on his widely followed Facebook page that a schoolmate told him his sixth-grade teacher told his class Pearson had once passed around vocabulary words prior to a test, and that the boy thought he was "all that and a bag of chips" and was "not worth saving in a fire."
"It's always great having a teacher that's not only a liberal bully, but someone who engages in slander."
When classes resumed at Columbia Middle School after the Columbus Day weekend, officials vowed to investigate the claim.
"This was brought to our attention after it was posted on social media," school Principal Eli Putnam told BizPac Review on Tuesday. "We have been on an extended holiday weekend and will conduct a full review of the allegations once school resumes tomorrow," Putnam wrote. "Columbia Middle School believes all students should be taught in a safe and positive environment. Accordingly, if the claims are substantiated we will handle the issue as a personnel matter."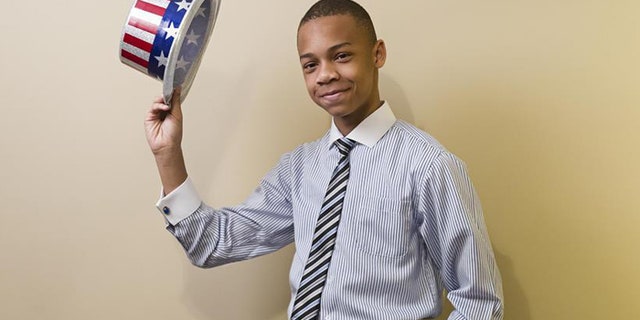 Columbia County schools Superintendent Sandra Carraway later told The Augusta Chronicle that all 25 students in the class where teacher Michael Garrison allegedly made the remark were interviewed and that only some of the comments were verified.
Carraway declined further comment and said the situation is considered a personnel matter and it would be addressed accordingly. She declined to comment about any specific disciplinary measures the teacher might face because of the incident.
Pearson believes the comments were relayed accurately to him.
"It's always great having a teacher that's not only a liberal bully, but someone who engages in slander," he said.
Pearson has met with conservative politicians including presidential candidate and Texas Sen. Ted Cruz as well as former Rep. Allen West, R-Fla., who have praised him for videos in which he excoriates President Obama, Hillary Clinton, gun control, the Black Lives Matter movement and various other people and causes.
"But here's what you need to realize: Here in America, we don't back down to terrorists," Pearson said in a February viral video in which he addressed President Obama. "We fight them on their own battleground, and we annihilate them till the very end. Here in America, we don't allow the government to take away what we work for, but we continue to work harder so that we may continue to succeed."