Northeastern professor caught saying he wouldn't mind seeing Trump 'dead'; apologizes following backlash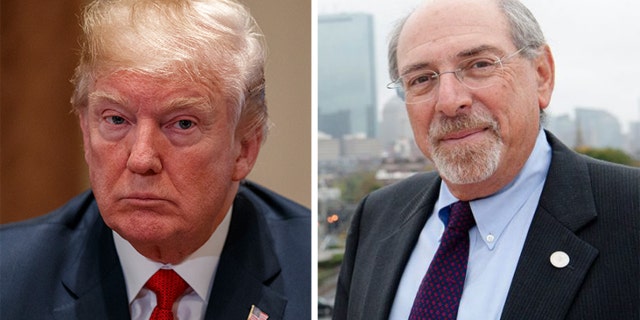 A Northeastern University professor who was caught on video during a lecture saying that he wouldn't mind seeing President Trump "dead" is apologizing amid a social media backlash and a statement from the school distancing itself from the remarks.
Barry Bluestone, an economics professor and founding director of Northeastern's Dukakis Center for Urban and Regional Policy, made the controversial comments during a Jan. 31 lecture on the challenges posed by economic inequality and stagnation.
"Sometimes I want to just see him impeached other times, quite honestly — I hope there are no FBI agents here — I wouldn't mind seeing him dead," Bluestone was quoted by multiple news agencies as saying in a YouTube video of the event that has since been yanked offline by the Boston school.
The journalist sitting next to him during the lecture, Robert Kuttner, then quickly added "of natural causes", which Bluestone affirmed by repeating and nodding, according to Campus Reform.
But Bluestone told Fox News on Thursday afternoon that the comments were made in the "heat of the moment at the end of a two-hour lecture" and that they are being "misconstrued" as a violent threat.
"I meant to say I would have liked to see the president disappear from the White House," he said, noting that he has "apologized to everyone for using that term."
Bluestone added that "everybody knows me as a proponent of non-violent action" and that he just wants to see "more people standing up and protesting" Trump's policies and "racism" and getting to the voting booths during election time.
"This president has created such deep divisions in the country," Bluestone told Fox News. "I've never seen in my life such anger and division."
Northeastern University told Fox News on Thursday that it has taken down a video of the event posted online over the backlash that Bluestone's comments have been generating.
"Professor Bluestone's comments do not reflect the views of Northeastern University," spokeswoman Renata Nyul said. "The university and its leaders steadfastly oppose violence in all its forms. While faculty members are free to express controversial opinions, the university cannot provide a public platform for comments that could be construed to condone violence."
The school did not respond though when asked by Fox News if Bluestone faces any disciplinary action.
Bluestone said school officials also never reached out to him before making their stance public.
"The university unfortunately didn't call me and ask to clarify the statement and took the video down," he told Fox News, adding that he "would have apologized to them."
Bluestone has since been blasted on social media for the remarks, with some calling for his firing.
"You owe the public, your students, the university and Trump an apology," one Twitter user wrote.
"This "Professor" - Barry Bluestone - should be investigated by the U.S. Secret Service, the Federal Bureau of Investigation!" said another.
Bluestone said he has received a lot of hate mail, but also messages of support for his position.
"I want to thank you for standing up for all of us, we need more people like you" he said one message read.
"I've [also] gotten epithets with lots of four letter words wishing death on me, but that goes with the territory, I guess," he added.