North Carolina woman's death investigated as possible bear attack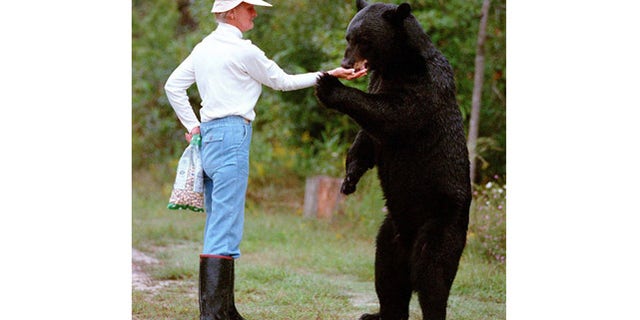 A North Carolina woman known as the "Bear Lady" for her devotion to feeding black bears that visited her remote Tyrrell County property might have been killed by the very animals she cared for, authorities said.
The remains of 67-year-old Kay Grayson were found by law enforcement Monday in woods about 100 yards off a dirt road leading to her home, after a resident alerted authorities that she had not seen the woman in several days, Tyrrell County Sheriff Darryl Liverman told FoxNews.com.
An autopsy was underway Thursday to determine the case of death. Liverman said only bones and hair were found in their search for Grayson, who he said had been dead for up to two weeks.
He said the remains were found with the help of bloodhounds along a known bear path and that torn clothing led authorities to suspect Grayson was dragged into the woods by bears.
Authorities do not suspect foul play, Liverman noted, though he said it's possible Grayson died before a bear or multiple bears found the body.
"Based on what we saw, we do believe that she was dragged into the woods by bears or multiple bears," he said. "The remains were on a path that was used by bears. Her clothing had been ripped by what appeared to be bears."
"She fed the bears a lot," Liverman added, "But we do not know if bears actually killed her."
Sgt. Mark Cagle, of the North Carolina Wildlife Resources Commission, who knew Grayson for nearly 20 years, said she often complained of trespassers and bear hunters on her property. Cagle said he spoke last month to Grayson, who he said "called to let me know it had been the quietest bear season since she had lived there."
Grayson lived alone inside her secluded mobile home along U.S. 64, east of Columbia -- property she had named "Bearsong," according to The Virginia-Pilot newspaper. For more than 20 years, she was known for feeding bears peanuts or dog food and had a "passion for animals," Cagle said.
"She was a very nice lady," he said. "She loved all of nature, especially bears."
Cagle said he had warned Grayson about the dangers of feeding black bears.
"To my knowledge, she stopped doing that about a year ago," he said. "We really don't know what happened."
FoxNews.com's Cristina Corbin contributed to this report.