North Carolina floods trigger house collapse; two people missing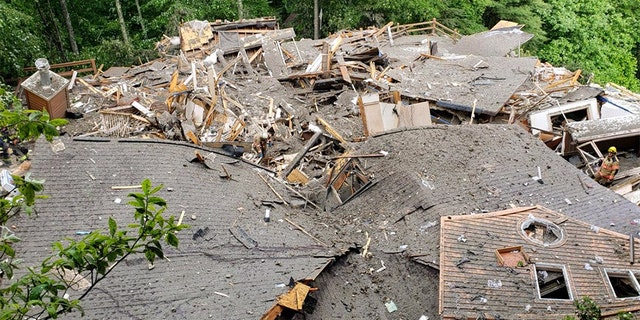 NEWYou can now listen to Fox News articles!
Rescue teams were searching Wednesday night for two people who vanished after a home collapsed in North Carolina due to extreme flooding and mudslides from the remnants of Subtropical Storm Alberto.
The Boone Police Department tweeted that crews were on the scene of a structural collapse in the Heaven Mountain Area after two people were reported missing at the collapse site.
Multiple emergency personnel from the surrounding county responded to the scene and police said the U.S. Army Reserves in Asheville were on their way.
Search and rescue teams continued to search late into Wednesday night.
Some areas of the North Carolina mountains have received up to 20 inches of rain in the past 15 days.
A TV news anchor and a photojournalist were killed Monday in North Carolina while covering the weather, when a tree became uprooted from rain-soaked ground and toppled onto their SUV, authorities said. WYFF-TV of Greenville, South Carolina, said news anchor Mike McCormick and photojournalist Aaron Smeltzer were killed.
The Associated Press contributed to this report.