'No simple answer' for preventing college campus shootings, security experts say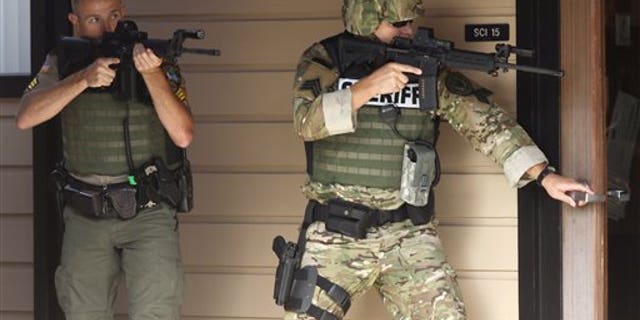 NEWYou can now listen to Fox News articles!
The mass murder Thursday inside an Oregon community college -- whose sole security guard was armed only with Mace -- has school safety advocates around the country questioning what measures, if any, can be taken to prevent more shootings.
"It's an extremely complex question and there's no one-size-fits-all answer," said Bill Taylor, police chief at San Jacinto College in Pasadena, Texas, and president of the International Association of Campus Law Enforcement Administrators.
A 26-year-old gunman opened fire Thursday morning at Umpqua Community College in rural Roseburg, Ore., killing nine people and wounding several others before dying in a gun battle with police. The shooter, identified as Chris Harper-Mercer, entered Snyder Hall with five handguns, one "long gun," and several magazines, and shot and killed a professor before turning the gun on students inside an English class.
The massacre -- the latest in a string of deadly school shootings nationwide -- has forced college campus safety groups to offer practical solutions to thwart future attacks. The American Association of Community Colleges was quick to issue a statement Thursday, saying, "We are committed to supporting on-campus safety and security measures at our colleges, with a priority emphasis on prevention whenever possible."
"I'm sure the gunman realized there really wasn't much there to stop him."
The answer, however, is not a simple one, according to security experts.
There are approximately 4,000 higher education institutions in the U.S., each with its own budget and board of directors, and within diverse environments -- from urban communities to rural ones. While such institutions are as varied as they are many, they all share a vulnerability when it comes to campus safety, say experts.
"Virtually all of our campuses in the United States – from two-year colleges to four-year institutions -- are not fenced or walled in, unlike elementary and high schools," Taylor told FoxNews.com. "The campuses are open to the public and people can come on and commit anything they'd do on the outside."
"Each is unique and makes their decision based on the money they have and the perceived risk," he said.
Taylor -- who was also a longtime police chief at Rice University -- said San Jacinto College currently has armed police officers on all three of its campuses, 24 hours a day.
"They know the campus intimately," he said of the security personnel. "They know where all the rooms are and how to get to them."
"You may not be able to prevent it outright but your response can be much more quick," he said. "I can't control a person who has no affiliation with the institution coming in and starting to shoot people. There is no way to do that."
Not every place of higher learning can pay for such security, noted Taylor, who said officials at Umpqua Community College likely have a "tight budget."
"The governing board probably made the decision that was the level of security they thought they needed," he said.
Taylor also suggested automated systems that monitor social media sites in college communities, with the hope school officials can prevent a shooting by finding warning messages, if they are any. He also advocated what he called "threat assessment teams" that can identify and review unusual behaviors demonstrated by students who may pose a threat.
"The whole idea is to intervene before we have something that happened like out in Oregon," he said.
Others, like Eric Coleman, professor of criminal justice at El Centro College and University of North Texas, said the very presence of armed officers on campus can act as a deterrent.
"Had here been more of a police presence on that campus would that have been instrumental in preventing that attack?" Coleman asked of the shooting in Oregon.
"I'm sure the gunman realized there really wasn't much there to stop him," said Coleman, a former police chief at Texas A&M in San Antonio. "In today's environment, you need armed police officers on these campuses in my opinion."
"It is expensive but you have to figure out a way to make it possible," he said. "Doing nothing is not a solution anymore."