No obvious remains found in missing NYC boy dig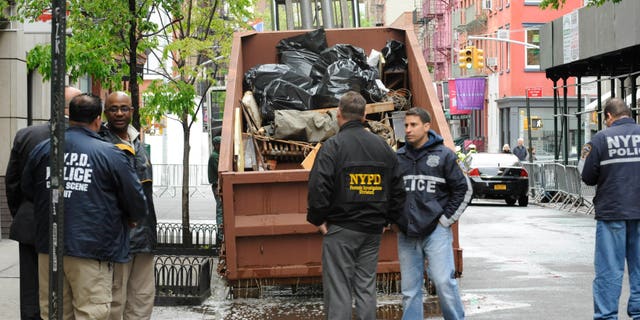 NEWYou can now listen to Fox News articles!
NEW YORK – The excavation of a Manhattan basement yielded no obvious human remains and little forensic evidence that would help solve the decades-long mystery of what happened to Etan Patz, a 6-year-old who vanished while walking to a bus stop 33 years ago.
On Monday, FBI and police completed a four-day search of a basement that began with a search warrant after a cadaver-sniffing dog detected the scent of possible human remains. The basement, once the workspace of a handyman, is down the street from where Etan's parents still live and along the route he would have walked to reach his school bus stop when he vanished on May 25, 1979, wearing a backpack with elephants printed on it.
"No obvious human remains were found, but it's still a missing person case," said Paul Browne, spokesman for the New York Police Department.
FBI spokesman J. Peter Donald said agents had concluded "the on-site portion of the search." The Manhattan district attorney's office, which said in 2010 it would take a fresh look at the case, had no comment.
Officials hauled away large brown steel containers full of rubble and muddy dust from the blasted concrete floor and brought them to a landfill on Staten Island, where they will be preserved.
Though the search was over, some of the material gathered was still being examined, and officials were continuing to pursue leads and interview people.
Investigators found a stain on a piece of wall that was tested on site and did not contain traces of blood, according to two law enforcement officials who spoke to The Associated Press on condition of anonymity because the search was ongoing.
FBI officials sent the piece to a Quantico, Va., lab for further testing. Some hairs also were collected, though it's not clear if they were human, and they also will be tested, one of the officials said.
An official with the city medical examiner's office had been on site during the search, and would have taken any potential human remains, including clothing or bones, but the official left without taking anything, one of the officials said.
Etan's 1979 disappearance touched off a massive search that continues today, but has ebbed and flowed over the years.
It also ushered in an era of anxiety about unprotected children and led to a national movement to publicize missing children. Etan, a sandy-haired boy with blue eyes and a toothy smile, was one of the first missing children whose face would appear on a milk carton.
His parents, Stan and Julie Patz, (rhymes with plates) were reluctant to move or even change their phone number in case their son tried to reach out. They still live in the same apartment, down the street from the building that was examined.
The couple has endured decades of false leads, and a lack of hard evidence. The two were briefed by authorities about the work there on Saturday, one official said.
They have not commented since the search began last week, and did not again Monday.
The case seemed to have been largely focused on Jose Ramos, a convicted child molester now serving time in Pennsylvania who had been dating Etan's baby sitter at the time the boy disappeared. In 2000, authorities dug up Ramos' former basement on the Lower East Side of Manhattan, but nothing turned up.
Stan Patz had his son declared legally dead in 2001 so he could sue Ramos, who has never been charged criminally and denies harming the boy. A civil judge in 2004 found him to be responsible for Etan's death.
But the focus shifted recently to Othniel Miller, who is now 75 and lives in Brooklyn. In 1979, Miller was a handyman who used the basement at 127B Prince St. as a workspace.
Miller, who was described by longtime residents as a neighborhood staple, was interviewed soon after the boy vanished. Investigators noticed at the time that the basement had a fresh concrete floor; his space was searched then but never dug up.
At the time, Miller gave investigators an alibi, though authorities are giving his account of the day a fresh look in part after recently interviewing his former wife, one of the officials said. Investigators spoke to Miller last week and decided to take a closer look at the basement, the official said.
Miller hasn't been named a suspect, and his lawyer Michael C. Farkas, said Monday that his client "has absolutely no responsibility for the terrible tragedy." Farkas also decried efforts to "sully" his client's reputation.
"The Miller family remains deeply saddened by what happened to young Etan Patz, and by the fact that he still has yet to be located," he said.
At the site Monday, metal police barriers with white flowers woven through them were being taken down and the posh neighborhood full of galleries and boutiques was returning to normal. The basement will likely be re-filled with concrete, the bill handed over to officials for reimbursement.
___
Associated Press writers Tom Hays, Jennifer Peltz and Verena Dobnik contributed to this report.