No exit plan for Team Rubicon, as veteran-led group still helping East Coast rebuild from Sandy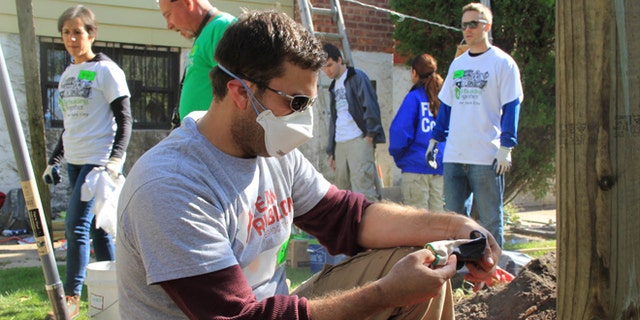 NEWYou can now listen to Fox News articles!
In military parlance, it is known as "mission creep" -- the scope of an operation expands and the boots end up on the ground much longer than planned.
Team Rubicon, an volunteer team of aid workers comprised of mostly veterans along with first responders, formed in the aftermath of the 2010 earthquake that devastated Haiti, has run into the classic quagmire on the East Coast, where it continues to help families and communities rebuild from Hurricane Sandy some two years after the nation's second-costliest storm barreled into New Jersey and worked its way up the shoreline. Members of the 19,000-strong group, which has helped communities around the world recover from storms, fires and floods, have no exit plan for New York and New Jersey, the states hardest hit by the storm.
"We have a pipeline of work and it can be anticipated to continue for a number of years," Team Rubicon regional director Todd Adrian told FoxNews.com. "I think we all expected recovery from Sandy would have happened faster but the scale of damage was enormous and the pace to rebuild has been slow."
[image]
Team Rubicon grew out of a medical response team put together by former U.S. Marines William McNulty and Jacob Wood, who led a team of veterans into the decimated streets of Port-Au-Prince after the 2010 disaster. Crossing the Artibonite, the river that separates the Dominican Republic from Haiti, gave them the name they use today, a nod to Julius Caesar's determination that fording the Italian river represented passing a point of no return. The trip itself gave Wood, McNulty, and others the realization that skills they gained in combat could prove valuable in disaster zones where immediate assistance is often scarce.
[pullquote]
Since then, Team Rubicon has carried out missions to Pakistan, Sudan and Burma. In 2011, after tornadoes hit Joplin, Mo., Tuscaloosa, Ala., the team started working stateside. And it expanded from helping those hit by disasters to also aiding military veterans transition back to civilian life.
But it was Team Rubicon's work in the aftermath of Sandy that gave it nationwide recognition. The storm made landfall in New Jersey on Oct. 29, 2012, and carved a path of destruction up the East Coast. In all, it was blamed for at least 180 deaths on U.S. soil and caused $65 billion in property damage, making it the second-costliest storm in American history. Team Rubicon swung quickly into action.
[image]
"It was an absolute tipping point," Wood told FoxNews.com. "We thought our work in Haiti would define us, but it was relief efforts after Sandy that gave us the opportunity to show the good work we are capable of doing."
The organization, based in El Segundo, Calif., has grown to more than 19,000 members and has added outposts around the globe in addition to the FEMA-based model of 10 regions of operation across the U.S. A 501(c)3 nonprofit, Team Rubicon has a budget of about $5 million and relies on donations, fund-raisers and visitors to its website who can buy clothing, gear and equipment for team members.
Team Rubicon's Region 2, which has headed up the Sandy effort has, in the last six months alone, helped with demolition and rebuilding of homes in some of the hardest hit towns, including Sea Bright, N.J., Bayshore, Long Island and Canarsie, Brooklyn.
They also help victims in other ways.
"We recently helped a couple who had developed a hoarding issue after the storm," Adrian said. "They had lost so much after the storm that they were not willing to give up anything."
The group also helped to rebuild American legion halls, including one in Seaside Heights, N.J. that was ravaged by the storm. Next month, Team Rubicon will work with other groups to rebuild the VFW post located in Asbury Park, N.J., in a historical building that once served as an armory for the region.
[image]
"The building is a lasting memorial to those that served," former commander and chaplain for VFW Post 1333 Lou Parisi told FoxNews.com. "This building needs a lot of attention and we just don't have the funds. It's a great thing to have fellow veterans come and help us rebuild."
Disaster-weary Americans are grateful when Team Rubicon deploys.
"People literally welcome us with open arms," Adrian told FoxNews.com. "They are proud of what our teams are doing in the community."
Brenda Boden, who owns a home in Rockaway, N.Y., and had help rebuilding from Rubicon agrees.
"They came in and cleared everything out when my home was damaged by the storm. We wouldn't have bounced back as quick as we did if it wasn't for their help," she told FoxNews.com. "I've always said that if I came into money, I would send them a check."