No cowboys or genies: 'Hurtful' Halloween costumes frighten college honchos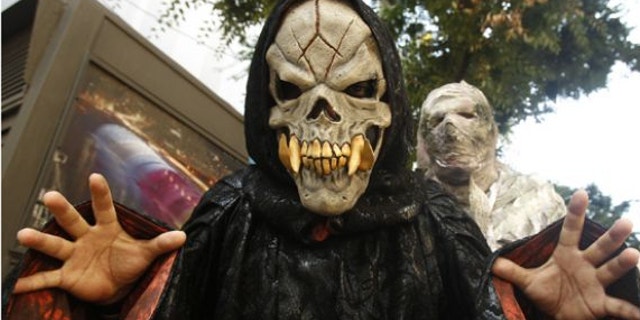 Finding a Halloween costume that doesn't terrify politically-correct college busybodies could be a challenge this year, with schools warning students dressing up as cowboys, Native-Americans, hillbillies and even genies could be seen as offensive.
The University of Colorado at Boulder Dean of Students Christian Gonzales warned students in a campus memo of the dangers of donning a costume - almost any costume.
"If you are planning to celebrate Halloween by dressing up in a costume, consider the impact your costume decision may have on others in the CU community," Gonzales said. "... making the choice to dress up as someone from another culture, either with the intention of being humorous or without the intention of being disrespectful, can lead to inaccurate and hurtful portrayals of other peoples' cultures in the CU community."
At Ohio State University, a student group called Students Teaching About Racism in Society, or STARS, launched its third annual campaign against what it considers hurtful Halloween costumes. The campaign spotlights four white students dressed up as various caricatures: one in blackface; another in a sombrero and poncho, a third that appeared to be a genie and yet another in a geisha getup, according to The College Fix..
The University of Minnesota also recently sent an email to students warning against costumes that "inappropriately perpetuate racial, cultural and gender stereotypes."
Gonzales is also asking students not to host parties that may offend others, including those with "ghetto" or "white trash/hillbilly" themes or those associated with "crime or sex work."
"While everyone has the freedom to be expressive, we also encourage you to celebrate that you are a part of a vibrant, diverse CU community that strives toward respecting others," Gonzales said.
University spokesman Bronson Hilliard told watchdog group Campus Reform that while the school condemns such costumes, students would not be punished for wearing them.
"When you dress up as a cowboy, and you have your sheriff badge on and a big cowboy hat, that's not a representation of a cowboy, that's not a representation of people who work on a ranch that's not a representation of people who live in the West, that's kind of a crude stereotype," Hilliard said.