NFL, Morehouse College co-host 'social justice' workshop inspired by Kaepernick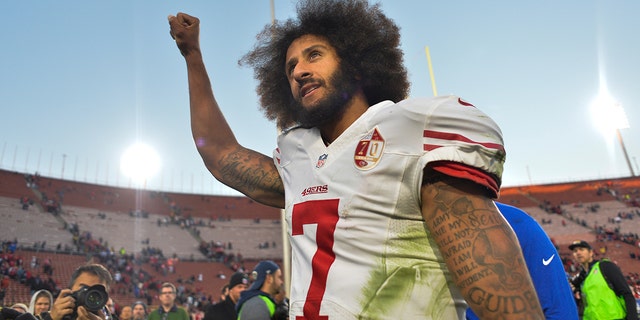 The National Football League is partnering with Morehouse College for a three-day social justice workshop in February inspired by Colin Kaepernick's activism.
"The Advocacy in Sport Workshop is a direct extension of Colin Kaepernick's activism," Interim President of Morehouse College Harold Martin Jr. wrote in a letter. "We recognize and applaud Mr. Kaepernick's efforts and personal sacrifice. His work…inspired this very tangible discussion and training."
The workshop in Atlanta, Ga. "will engage professional athletes around issues of social justice and other advocacy agendas emphasizing how to effectively launch platforms that rally community support and national attention."
The announcement comes after the NFL pledged to donate $89 million to social justice causes over the next seven years, a commitment that came after Kaepernick and other NFL players kneeled during the national anthem to protest police brutality and other perceived racial injustices.
"This historic workshop is aimed at training the next generation of athletes who wish to use sport as a powerful platform for advocacy," said Troy Vincent, NFL executive vice president of football operations in an NFL press release. "Our partnership is designed to equip athletes as influencers and community leaders with the mechanics to develop their advocacy platform."
Dr. David Wall Rice, associate professor of psychology at Morehouse, designed the curriculum for the workshop through his Identity, Art and Democracy Laboratory. Students selected to participate in the workshop will also take his winter term course Psychology, Sport and Social Justice.
Rice tweeted his thanks to Kaepernick for the event:
"Looking forward to this crucial work. Thank you @Keapernick7 @RISEtoWIN @nfl @Morehouse for the activism that got us here…"
"Linking with the NFL and their players in pushing forward social justice agendas that mirror present and past activist foundations of Morehouse College is important work," said Martin Jr. "We take our relationship here and the trust that many of the players have already communicated to Dr. Rice seriously, and we know that the work we do in February and beyond has the capacity to impact lives."
Kaepernick drew praise but also outrage for refusing to stand during the national anthem. Some accused him of lacking patriotism and disrespecting the American flag. He has not been signed by another team since his protest.
While the university referred to Martin's letter, Benson said "the workshop will not support or promote kneeling during the national anthem."