Newlywed who pushed husband off Glacier National Park cliff to be sentenced Thursday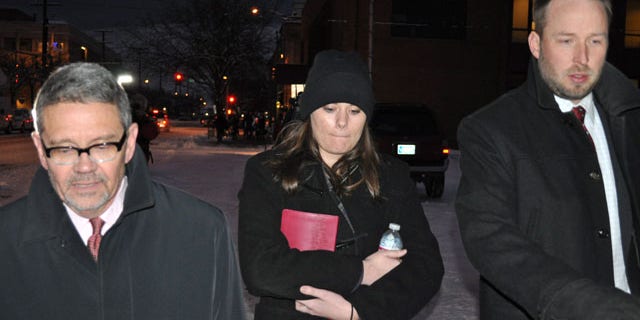 MISSOULA, Mont. – A Montana woman who admitted to pushing her husband off a cliff eight days after they were married is due to be sentenced Thursday, even as she attempts to retract her guilty plea to avoid a potential life prison sentence.
Jordan Linn Graham, 22, of Kalispell pleaded guilty in December to federal charges of second-degree murder in the death of husband Cody Johnson, 25.
She has admitted to pushing Johnson off a cliff at Glacier National Park on July 7 following an argument.
But Graham's attorneys sought this week to withdraw the plea after the U.S. attorney's office called for a sentence of 50 years to life.
Prosecutors recommended such a lengthy sentence in part because they said Graham appeared to plan Johnson's killing.
Defense attorney Michael Donahoe said the issue of intent was settled when Graham pleaded guilty to second-degree murder based on extreme recklessness. He has argued that her "extremely reckless but unintentional act" warrants 10 years in prison.
The government said in a response filed Wednesday that that it is not limited by the defendant's description of events in recommending a prison term.
Assistant U.S. Attorney Kris McLean argued the court can consider any information about the background, character and conduct of the defendant when setting a sentence.
Prosecutors said the fact that Graham was unhappy in her new marriage, that she somehow ended up with the only set of keys to the car Johnson drove into the park on July 7 and that she texted a friend saying if the friend didn't hear from her at all again that night, "something happened," indicated Graham was "planning and considering murder."
U.S. District Judge Donald Molloy told Graham in December that her pleading guilty meant she could face a life sentence in federal prison. The change of plea came in the midst of a jury trial and was not accompanied by a plea agreement.
Donahoe said the request for a life sentence shows prosecutors' offer to dismiss the first-degree murder charge was an "empty promise" and a way to avoid a possible verdict of manslaughter, a less serious offense than first- or second-degree murder.
Johnson's body was found at the bottom of the cliff three days after he was reported missing by a friend and co-worker. Graham said at her trial that she was having second thoughts about being married so young and they went to the park to talk about it.
They argued heatedly at the edge of a steep cliff. Johnson grabbed her, she became angry and she "just pushed" without thinking about where they were, Graham said then.
She didn't tell anybody what had happened, instead making up a story that Johnson had gone for a "joyride" with friends from Washington state.
That story unraveled when the versions she told to friends, relatives and authorities didn't match.