Newborn with umbilical cord still attached found in middle of California roadway
A newspaper delivery man in California found a newborn baby girl in the middle of a roadway on Monday while he was delivering copies of the Fresno Bee just outside the city.
Aurelio Fuentes Jr. told the paper that he didn't know what he was seeing at first. It was 4:30 a.m. and dark. He said he thought it was a small animal and approached it slowly. He saw that it was a baby dressed in a onesie without a diaper and lying on its back.
A woman in another car told him to bring the girl into her car, which was warm inside. Fuentes reportedly brought the baby inside and unzipped the onesie to warm her, and noticed the umbilical cord.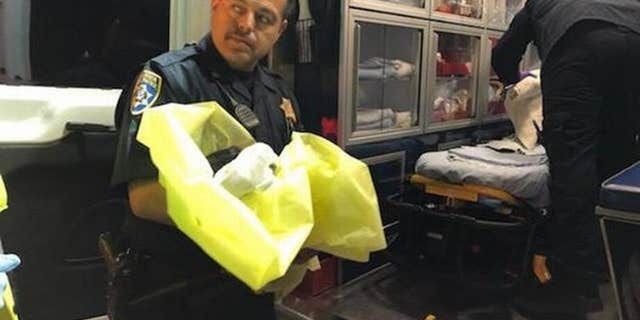 Authorities eventually arrived and took the baby in for treatment. They are searching for a Hispanic woman in her 20s who reportedly asked a man if "he could take her child" a short time earlier.
Fuentes considered what could have happened the baby if he wasn't driving 5 mph. He said there are coyotes in the area. He told the paper that he intends to finish delivering the papers on Tuesday, and hopes customers understand.