New York City cops save tourist, 83, who suffered heart attack while celebrating wedding anniversary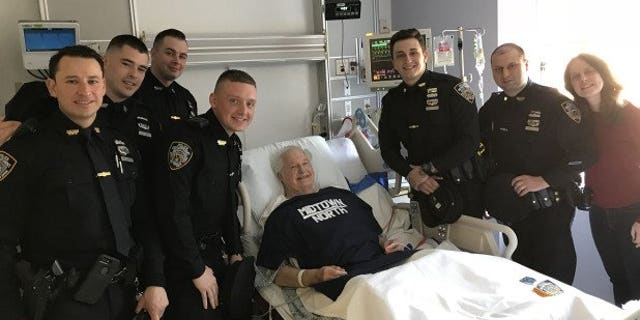 NEWYou can now listen to Fox News articles!
Several New York City police officers sprang into action on Friday and saved a tourist who suffered a heart attack while celebrating his 60th wedding anniversary in Manhattan's midtown.
Ron Gargalowitz and his wife were in Times Square around 7:40 p.m. when the 83-year-old suddenly collapsed, CBS New York reported. Gargalowitz, who was visiting from Massachusetts, told the news station he had just finished dinner with 20 other relatives when he suffered a heart attack.
"I passed out and fell down, didn't even realize anything. And the officers were very nearby and someone alerted them," he told the news station.
A person flagged down Robert Pepe, who was in the area for an unrelated issue.
"He did not have a pulse and I saw he had no chest rise," Pepe said in a news conference. "Instantly, I just remembered what they taught us in the academy and started chest compressions, started CPR."
Officer Patrick Riodan arrived at the scene and requested an AED defibrillator that Officer Michael Tommasino brought over within minutes. Tommasino administered one shock to the man.
Officer Christopher Mallette continued chest compressions until the man became "awake and somewhat alert," the New York Post reported.
Officers Michael Gallagher and Louis Lara-Faavedva were also at the scene assisting the incident.
Gargalowitz's daughter, Christine Yoken, said her father was "walking and talking" at the hospital on Saturday.
"It's nothing short of a miracle," she said. "They went above and beyond the call of duty. My father means everything to us. They not only saved my father, they saved my whole family. I can't thank them enough."
"The celebration of the anniversary is not canceled," she said. "Just postponed because my dad is still here [at the hospital]."
Pepe said it felt "amazing" to see Gargalowitz doing well after the near-fatal heart attack.
"Not many people come back from that in the condition that he looked like he was in upstairs where he was walking, he was talking, his hair was all done, he was happy," he said. "There's no better feeling in the world than to see something like that; you've actually affected someone in a very positive way."