New Orleans 'gutter buddies' will block Mardi Gras beads from sewers
Colorful beads are everywhere in New Orleans during Mardi Gras, with the signature symbol of the festival draped around necks, used as decorations and thrown from floats and balconies.
Tons and tons of them also, apparently, end up in the storm drains. This year, this city is taking usual precautions to prevent the drains from getting clogged.
City officials this year have deployed 250 "gutter buddies" in front of catch basins along the St. Charles Avenue parade route, according to New Orleans Department of Public Works Interim Director Dani Galloway.
"It's just a guard to make sure some of the larger stuff doesn't go down the catch basins and block the drainage system," she told FOX8.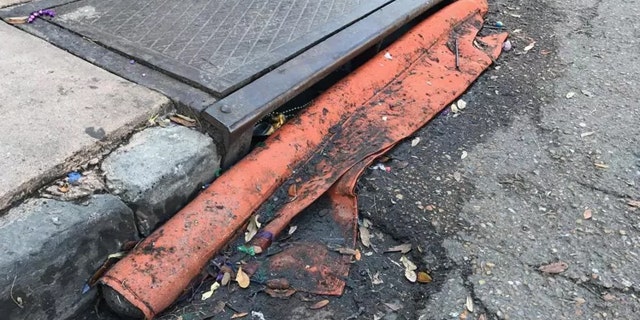 The orange sleeves filled with pebbles cost the city about $30,000, but are expected to pay off long-term by helping to keep New Orleans' unique French drainage system clear.
City officials started a project to clean thousands of catch basins in September, but wanted to ensure the basins along the parade route did not get clogged during busiest time of the year. This year, Mardi Gras will be celebrated Feb. 13.
"What we found in just those short blocks was 93,000 pounds of beads, and so when you know better, you kind of have to do better," Galloway said.
NEW ORLEANS PULLS 93,000 POUNDS OF MARDI GRAS BEADS FROM STORM DRAINS
Before the city rolled out the blockers, the chief engineer of the Blake Corner told FOX 8 he took matters into his own hands to keep beads out of drains.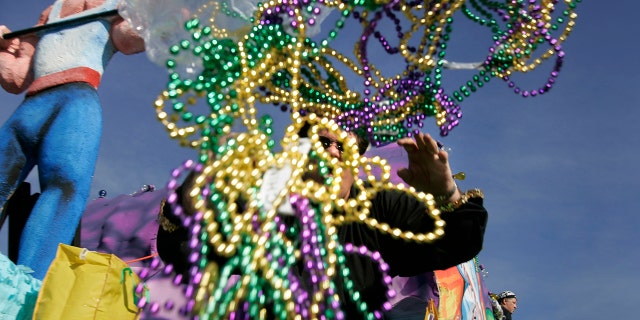 "Seems like they're trying to go in the right direction. This is a start anyway," Don Poole said.
In an attempt to keep up with Mardi Gras revelers, city officials said in a news release they will have up to 600 staff, temporary workers and contract crews plus 87 pieces of equipment to sweep streets each parade day.
"The success of Mardi Gras depends upon returning public rights of ways to normalcy and cleanliness as soon as possible after each parade," city officials said.
In addition to the gutter guards, the city is also launching a recycling plan to encourage people to recycle beads and recyclable plastics and metals along the parade routes.