New Jersey couple killed after home explodes; officials investigating cause of blast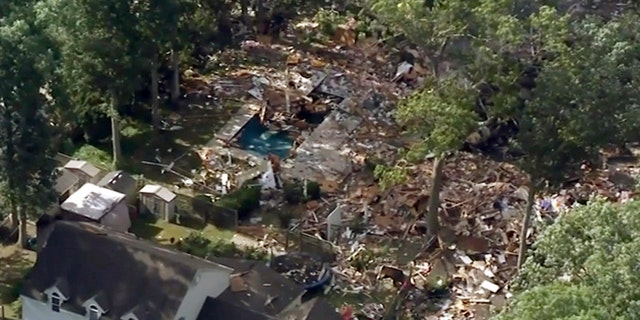 NEWYou can now listen to Fox News articles!
An elderly couple died Saturday morning after an explosion completely reduced their two-story home to piles of rubble.
The couple, identified as John Paladino, 73, and Carole Paladino, 72, were the only people inside the home in Newfield, New Jersey, when the blast occurred shortly after 6 a.m. Investigators have not revealed what caused the blast but have said they do not suspect any foul play.
Neighbors said the couple had lived in their home for decades, and it was where they raised their children. An appliance had been delivered on Friday, neighbors said, speculating the blast could be a gas explosion.
The two were the only people inside the home when the explosion occurred, the Gloucester County prosecutor's office said. Autopsies on the victims are slated for Sunday.
The well-liked couple was active in the community, too, according to WPVI-TV.
Carole Paladino was a catechism teacher at a local church and a retired school nurse. John Paladino served on the Newfield School Board and also worked at a funeral home, WCAU-TV reported. The couple had recently celebrated their 50th anniversary.
"I looked up to him," 10-year-old Paul Vidal, who was staying next door with his grandmother, told the Philadelphia Inquirer of John Paladino. "He was so nice. If you got hurt, he would help you."
"Just good people," said Wayne Ingling, a family friend from Vineland as he stood down the street. "It shakes you up. It's a really bad scene up there."
The explosion was so powerful that it could be felt several miles away. Utility workers shut off gas lines to dozens of homes as a precaution.
Francesca Mancuso, who lives about 50 yards away, told the Philadelphia Inquirer that she woke up to what she initially thought was thunder.
"It was a huge ball of fire, a massive ball of fire," Mancuso said. "We heard people screaming 'Help!' and we ran over to see if there was anything we could do. But it was impossible."
Aside from the Paladinos' home, a house next door also suffered damage from the debris, according to the Inquirer. An RV was also knocked to its side. A three-pane window and front door of another nearby house had been blown off, as well, according to the Vineland Daily Journal.
Across the street, a Christmas card had landed onto the yard, signed, "Your one and only, John."
Prosecutors said the cause and origin of the explosion remained under investigation by their office and the county fire marshal.
Newfield is located about 40 miles south of Philadelphia.
Fox News' Robert Gearty and The Associated Press contributed to this report.