New Jersey community to fine out-of-town drivers in attempt to decrease traffic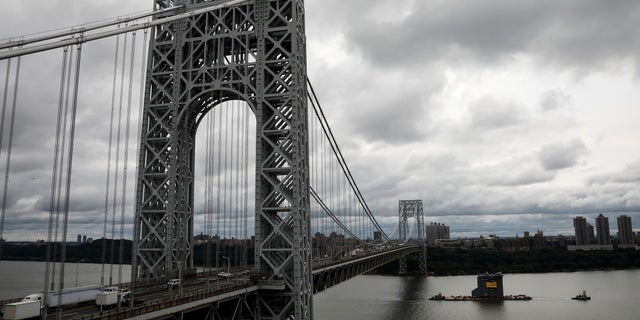 A small community in New Jersey announced it would fine out-of-town commuters driving through the city's streets in an attempt to decrease traffic and congestion.
The town of Leonia said its police officers would start fining the commuters $200 if they drive through 60 of its streets between 6 a.m. and 10 a.m. and 4 p.m. and 9 p.m. beginning on January 22, NJ.com reported.
Officials would give the community's residents a yellow tag to leave in their car, letting officers know they live in the town. Those without a yellow tag would be subjected to the fine.
NEW JERSEY SANDWICH SHOT FEATURING POT-SMOKING SANTA SPARKS BACKLASH
The town implemented the measure after traffic got much worse due to navigation apps such as Waze and Google maps leading highway drivers to the city streets as a shortcut. The town is located about a mile away from the George Washington Bridge, which leads into New York City.
Tom Rowe, the city's police chief, said as many as 15,000 cars travel through the town every day. The population of the community is about 9,200 with 18 police officers.
"It's a very extreme measure for very extreme traffic," Rowe told The New York Times. "Would I prefer not to do this? Of course. But I would rather try something and fail than not try anything."
Town officials told NJ.com that they were working with Waze so the software would not direct commuters to drive through Leonia.
The town's officials said the measure was legal but it could be "tested in court."
The New York Times reported the town's residents had trouble getting out of their driveways during rush hour.
Melissa Soesmann of Leonia said she would "plead" with drivers to pull out of her driveway.
WASHINGTON'S CHRISTMAS CROSSING OF DELAWARE SAVED BY SKILLED STUDENTS
"It's horrific, and it's all the time," she said. "They will see that you are trying to get out, but they won't let you. People are cranky; it's the morning. By the time they are up here, who knows how long they have been sitting in traffic."
Leonia was not the first town to have congestion problems due to navigation apps. Los Gatos and Fremont in California both had traffic issues due to the apps, CBS San Francisco reported.