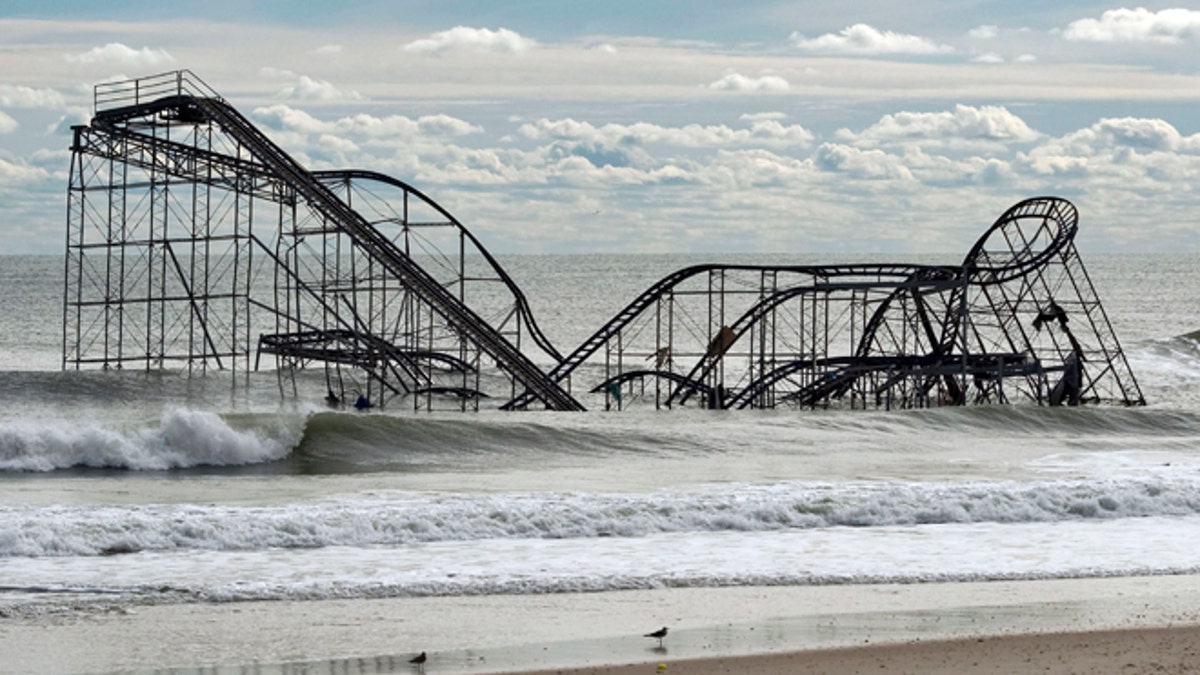 A roller coaster that's sitting partially submerged in the Atlantic Ocean after a pier on the Jersey Shore collapsed during superstorm Sandy may remain there as a tourist attraction.
Seaside Heights Mayor Bill Akers tells WNBC-TV in New York that officials have not made a decision on whether to tear down the coaster. But the mayor says he's working with the Coast Guard to see if the coaster is stable enough to leave it alone because he believes it would make "a great tourist attraction."
Meanwhile, efforts to rebuild the storm-ravaged town are continuing.
Demolition crews have removed the resort's damaged boardwalk. And Akers says construction on a new boardwalk is expected to begin in January and be ready by Memorial Day.
The average New Jersey beach became 30 to 40 feet narrower after the storm, according to a survey that is sure to intensify a long-running debate on whether federal dollars should be used to replenish stretches of sand that only a fraction of U.S. taxpayers use.
Some of New Jersey's famous beaches lost half their sand when Sandy slammed ashore in late October.
The shore town of Mantoloking, one of the hardest-hit communities, lost 150 feet of beach, said Stewart Farrell, director of Stockton College's Coastal Research Center and a leading expert on beach erosion.
Routine storms tear up beaches in any season, and one prescription for protecting communities from storm surge has been to replenish beaches with sand pumped from offshore. Places with recently beefed-up beaches saw comparatively little damage, said Farrell, whose study's findings were made available to The Associated Press.
"It really, really works," Farrell said. "Where there was a federal beach fill in place, there was no major damage — no homes destroyed, no sand piles in the streets. Where there was no beach fill, water broke through the dunes."
The beach-replenishment projects have been controversial both for their expense and because waves continually wash away the new sand. The federal government picks up 65 percent of the cost, with the rest coming from state and local coffers.
How big the beaches are — or whether there is a beach at all to go to — is a crucial question that must be resolved before the summer tourism season.
The Associated Press contributed to this report.