New Hampshire woman pleads not guilty to animal cruelty charges after 84 Great Danes removed from home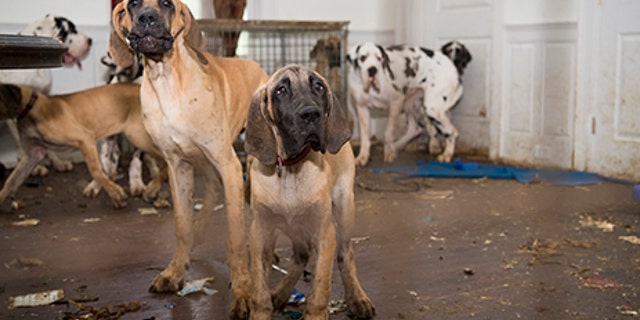 A New Hampshire woman pleaded not guilty Tuesday to 12 misdemeanor animal cruelty charges in connection with the seziure of 84 Great Danes from her home in June.
Authorities said the dogs were found in poor living conditions in Christina Fay's Wolfeboro mansion, and suffered from sores and other health problems when they were removed during the summer.
"There was just feces everywhere," Lindsay Hamrick, New Hampshire state director of the Humane Society of the United States, said in June. "The dogs were sliding on it. We were sliding on it."
Fay, who defended herself in Tuesday's court hearing, denied the charges, WMUR-TV reported. She told the judge that the dogs "are literally my reason for living," adding that she wouldn't have decided to take responsibility for the animals if she didn't believe she could provide them with proper care.
Fay also denied testimony from former employees who claimed her house was filthy, arguing that she cleaned the floors regularly.
Police said in June that Fay ran a business from the home called De La Sang Monde Great Danes.
Wolfeboro is a town of about 6,300 residents in New Hampshire's scenic Lakes Region.
The Associated Press contributed to this report.