New Hampshire couple arrested at Florida parade after boy burned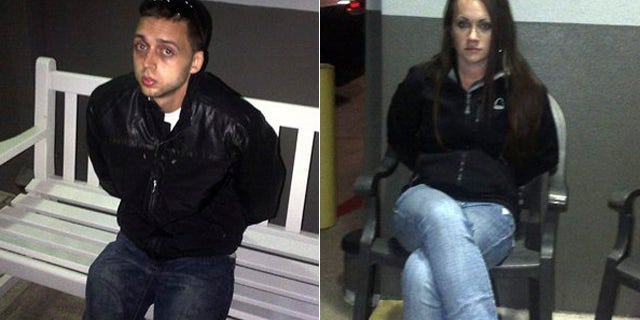 ORLANDO, Fla. – A New Hampshire couple suspected of abusing the woman's 3-year-old son have been arrested while leaving a parade at a theme park in Orlando, Fla., after two weeks on the run, authorities say.
Jessica Linscott and her boyfriend, Roland Dow, were taken into custody on Wednesday evening at Universal Studios, where they had been watching the parade, U.S. marshals said.
Linscott, 23, and Dow, 27, were wanted in connection with injuries to Linscott's son, including burns and significant head injuries.
Police had received a call two weeks ago from Exeter Hospital, in Exeter, N.H., where the boy was being treated. The boy later was taken to Children's Hospital at Dartmouth in Lebanon, N.H., where he was recovering after surgery.
Tips helped to track down the couple, Rockingham County Attorney Jim Reams said.
"We were feeling pretty confident 24 hours ago that we were going to have them soon," Reams said Wednesday.
Law enforcement officials spent "countless hours" trying to find Linscott and Dow, who are from Plaistow, N.H., a town of about 8,000 residents in Rockingham County, marshals said.
Marshals looked for the couple all day Wednesday and at the end of the day found them while a crowd was breaking up after the parade and they were headed back to the theme park's attractions area, said David Charles, deputy criminal investigator for the U.S. Marshals Service in Orlando.
"They were totally surprised," he said. "They had no clue."
U.S. Marshal David L. Cargill Jr., who thanked the public for providing tips during the search for the couple, said he found it "very sad" that they were found in an area "designed to bring joy and happiness to children."
Linscott is accused of failing to get medical attention for her son when he was suffering seizures from a head injury and of failing to protect him from harm. She's charged with multiple counts of child endangerment.
Dow is charged with assault.
Linscott and Dow were jailed on Wednesday and couldn't be reached for comment by telephone. They were scheduled to be arraigned in Florida on Thursday on fugitive from justice charges.