Navy report: Fighter jet safety fix 'elusive'
NEWYou can now listen to Fox News articles!
Just this week, the F-35, America's next generation of fighting aircraft, halted air operations at an Arizona air base after pilots suffered symptoms resembling hypoxia, or oxygen deprivation, while in flight. The symptoms include dizziness, euphoria or even loss of consciousness.
This comes as one of America's most fierce fighting aircraft, the heavily relied on F/A-18, has been under review by the Navy after increased reports that its pilots were in harm's way before they even make it into combat. The problem? An unreliable air supply that results in hypoxia.
Fox News got an exclusive look at the results of that comprehensive review Thursday afternoon. The Navy also reviewed problems with the T-45, used to train pilots. In April, the Navy halted training flights in T-45's, due to safety concerns. Those flights have not resumed.
Navy, Marine Corps hornet fighter pilots raise alarm over safety issues
In the review, the Navy "examined the facts, circumstances and processes surrounding the recent physiological episodes (PEs) involving T-45 and FA-18 aircrew, including how these issues have been addressed."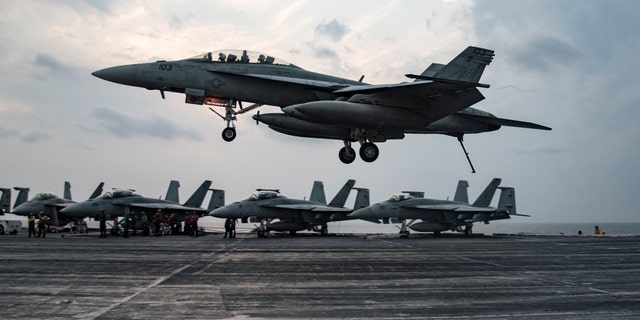 "Physiological Episodes (PEs) occur when aircrew are physically impaired, experiencing decreased performance due to a variety of factors," the Navy said.
The review focused on two categories: "Where the aircraft cabin pressurization system is not operating as designed, leading to decompression sickness (DCS); and where the breathing air supply system does not provide adequate air volume, oxygen concentration or purity, leading to varying forms of hypoxia." They add that human factors such as fatigue, dehydration, diet, nutrition and anxiety can complicate the problem.
Since 2009, the Department of the Navy has seen a rise in hazard reports regarding physiological episodes in F/A-18 Hornet and Super Hornet aircraft.
Navy instructor pilots refusing to fly over safety concerns; Pence's son affected
Through a Freedom of Information Act request, Fox News learned that since 1997, 15 pilots have been killed in similar incidents.
Also, according to congressional testimony by a Navy Admiral, from 2015 to 2016 the rate of these dangerous episodes increased in some F/A-18 models by 90 percent.
The comprehensive review released Thursday said the Navy has so far been unable to address the issue.
"To date," the review said, "finding a solution to the U.S. Navy and U.S. Marine Corps' high performance jet aircraft PE challenge has proved elusive."
It is a complex issue, the review says, without a single cause and therefore without a single solution.
One reason offered to explain the increase in PEs might not be that they were occurring more often but that it is "likely more reflective of a change in aircrew awareness and reporting mechanisms than a sudden rise in PEs. Thus, comparison of pre- and post-2010 PE is essentially impossible and could lead to inappropriate conclusions."
F-18 crashes attempting to land aboard USS Carl Vinson, pilot ejected safely
As they look for a remedy, they say this is the Navy's "No. 1 safety priority" and they have announced an "unconstrained resource" approach to finding a solution. In other words, they are giving the experts whatever they need to fix the problems.
One suggestion, in the review, is to "establish a single, dedicated organization to lead Naval PE resolution efforts. This temporary organization should be headed by a Naval Aviator Flag/General Officer, embrace the "unconstrained resource" approach and fully incorporate all stakeholders." Also, they are considering "re-design aircraft systems to meet oxygen generation system technical requirements."
Capt. Marc Miguez, Carrier Air Wing Commander, CVW-3, told Fox News the Navy is looking into the issue.
"We'd been noticing that there's been an uptick in physiological episodes and we've attacked it head on," he said.
He called it an "all-hands-on-deck focused effort" saying "we have everything we need to finally fix and get an ultimate solution to this problem."
Miguez feels his pilots are not in harm's way.
"There are obviously risks involved, but the way that we execute our safety programs and the way that we take care of our individuals when they're flying and also the way we train," he said, "I don't have any concerns that we are not operating at the top of our performance and also we're doing it safely."
The comprehensive review was delivered to the Vice Chief of Naval Operations, Admiral Bill Moran. In an exclusive interview, he told Fox News' Lea Gabrielle "safety's always our top concern. Right? I mean, naval aviation is inherently risky business. We don't need to add to that risk by not understanding what's causing the problem."
He added that gaining that understanding is not so simple. He told Gabrielle "an elusive solution here is just a reflection of how complex the system is by itself. So it's not a simple system; any platform like the high-performance jet that's increasing in pressure altitude, increasing in pressure demands, increasing in human demands."
He says they are confident that they are fixing the issues.
Moran does admit that the T-45 concerns were not on the Navy's radar.
"It snuck up on us, frankly," he said. "I think all leadership was caught by surprise with how quickly we saw an increase in the number of physiological episodes."
He said the Navy is close to getting pilots back to training in the aircraft and they are flying instructors with modifications "to help collect data and also to keep their proficiency at the right levels."
He went to say that "leadership at the local level was really struggling to get ahead of this problem." But, after meeting with instructor pilots, they told him they had faith in their chain of command.
"They believe," Moran said, "that everybody has got their best interest, their safety – first and foremost in our minds."