Navy Extends Streak to 13 with 17-10 Win in Army-Navy Game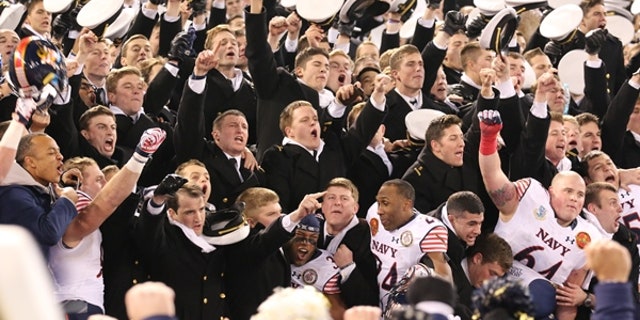 NEWYou can now listen to Fox News articles!
BALTIMORE -- Navy beat Army on Saturday for the 13th straight time in the 115th Army-Navy game even though Army's football program showed progress in closing the gap with its academy rival.
Navy extended its streak of unprecedented domination in the rivalry as Navy quarterback Keenan Reynolds led the Midshipmen over the Black Knights with 110 yards on 26 carries and one touchdown.
Soldiers and sailors gathered in Baltimore at M&T Bank Stadium for an Army-Navy game that included the usual traditions and ceremonies associated with the best rivalry in college football. Defense Secretary Chuck Hagel attended the game along with Navy Secretary Ray Mabus and Army Secretary John McHugh.
Ken Niumatalolo said his team tries not to think about the streak but players have acknowledged that there has been extra pressure not to be the class that ends it. On Saturday, Reynolds and the players said they tried not to think about it.
"It's hard to do. We don't talk about the streak. Our approach has always been about the game. It's not as if you carry points over from one year to the next," Niumatalolo said. "It's a heck of a run, and you have to give credit to a lot of players and coaches."
Army leadership including Army Chief of Staff Gen. Ray Odierno have made it a priority to help the West Point football program catch up to Navy. Led be new coach Jeff Monken, a former Navy assistant coach, the Black Knights showed that the team had no intention of being blown out right from the start.
Army defensive back Josh Jenkins blocked a punt in the first quarter and sophomore Xavier Moss scooped it up and scored the first touchdown of the game. The Army Corps of Cadets exploded and Army's defense fed off the energy.
Army bottled up Navy's triple option attack until the end of the first half after Navy's defense stopped Army on a fourth down. Reynolds showed off his arm with a 39-yard pass that moved Navy into Army territory. He finished off the drive with a 9-yard touchdown pass to wide receiver Jamir Tillman.
"They did what we expected them to," Reynolds said. "We kept shooting ourselves in the foot. We just did a poor job of execution on offense. We knew what we had to do. We had to get points at the end of the first half."
Navy's touchdown before halftime proved to be the turning point of the game as Navy regained momentum and scored on their next two offensive drives.
A one-yard touchdown run by Reynolds in the fourth quarter proved to be the winning score after Army clawed back with a late fumble recovery and a 52-yard field goal by kicker Daniel Grochowski. The kick was tied for the second longest field goal in Army history.
However, Army couldn't recover the on-sides kick and Navy ran out the clock after a 19-yard run by Reynolds gave the Midshipmen a first down.
Army's offense failed to capitalize on opportunities to score in the second quarter and second half. In fact, Navy's defense prevented the Black Knights from ever scoring an offensive touchdown.
Army's starting quarterback Angel Santiago was injured in the first half and was replaced in the second half by junior A.J. Schurr. Neither could provide Army enough of a spark to get their offense to execute consistently.
Meanwhile, Navy's offense executed with cool efficiency in the second-half to fend off the Army comeback attempt.
The victory made Niumatalolo the winningest coach in Navy history with 56 wins, passing legendary coach George Welsh. After the final whistle, Niumatalolo's players carried him off the field with linebacker Jordan Drake running into the Secretary of the Navy in the process
"I didn't want to hurt them. It's not like I am the lightest coach," Niumatalolo said. "My players did that. I didn't want to do that. I just wanted to get down. I have so much respect for Army and Jeff and those guys. I didn't want to upstage anybody."
Senior Army fullback Larry Dixon talked about the progress the Army program made despite the loss. He said Monken has instilled a family atmosphere within the team and he's seen the program improve.
"My freshman, sophomore, and junior years it was easier to leave the locker room because we weren't that close as a team," he said. "That was the hardest thing I've ever had to do was part ways with my teammates right there. At the very least what coach Monken has done, and I'm grateful for that, is that he created a family."
Army senior defensive lineman Joe Drummond considered the disappointment associated with never beating Navy in his four years.
"I think, of course, it will be our one, huge regret from our time here, not having beaten our archrivals," Drummond said. "When it comes to this program going forward though, we know we're leaving it in very, very capable hands."
Navy's coach gave credit to Army's players and emphasized after the game how players from both sides will soon play on the same team in defense of their country.
"Oour country is in great hands, on both sides of the ball. They've got great kids at West Point," Niumatalolo said. It's kind of cool when you've got the final four (College Football Playoffs), players trying to unionize, trying to get more pay. But here you've got two schools that just want to beat each other up and then shake hands after the game. And a year or so later they will be serving together to protect our freedoms."
-- Michael Hoffman can be reached at Michael.Hoffman@military.com