Nature Conservancy acquires California coastal ranchland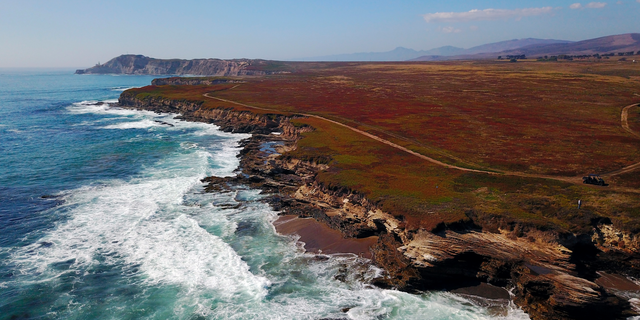 SANTA BARBARA, Calif. – A huge swath of coastal California ranch lands will become a vast preserve through an acquisition funded by a $165 million gift from a wealthy environmentalist couple, The Nature Conservancy announced Friday.
The purchase of the Cojo-Jalama Ranch covers 24,000 acres (9,713 hectares) at Point Conception, the landmark 150 miles (241 kilometers) west of Los Angeles where the coastline distinctly turns northward.
Considered sacred by the Native American Chumash and long used for cattle ranching, it has escaped the invasion of development that sprawls along much of California's coast and is considered highly important for its biological diversity.
The funds came from Jack and Laura Dangermond, conservationists and co-founders of Esri, a provider of geographic information system software for mapping and spatial analytics. It is the largest single philanthropic gift in The Nature Conservancy's history, the nonprofit said.
"This is an incredibly rare, ecologically important place with eight miles of coast and centuries-old coastal oak woodlands," Jack Dangermond said in a statement. "This deserves to be preserved and managed by an organization like The Nature Conservancy."
Two private cattle ranches currently occupy the land, which had recently received attention when the California Coastal Commission accepted a deal in which the owners gave a mile of shoreline property to the Santa Barbara County parks department as part of a settlement for doing unpermitted work such as grading.
"There's no place like it. It's where Northern California and Southern California meet. Standing there in the oaks, looking west across the ocean, you understand why this has been a spiritual place for millennia," said Mike Sweeney, executive director of the conservancy's California chapter.
The land, to be renamed the Jack and Laura Dangermond Preserve, has crucial wildlife corridors and is home to mountain lions, bobcats, bears, 14 endangered species including the snowy plover, red-legged frog and monarch butterfly, and many other species that are considered threatened or have special status. Marine mammals live along the shoreline adjacent to a protected area of ocean.
The Nature Conservancy, a global conservation group, said it will spend 18 months studying the ecological, cultural and historical aspects of the land and develop a plan for long-term use and management. The private cattle ranching operation will continue in the meantime.