National health care company apologizes for 'No Haitians' job ad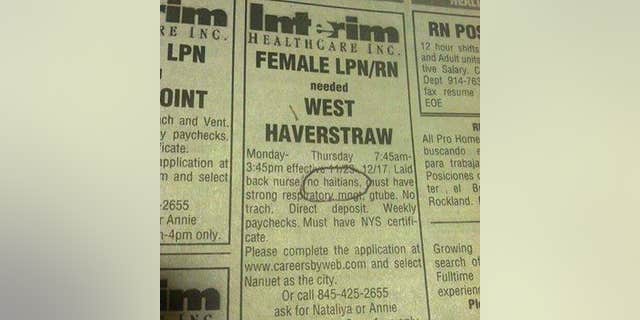 NEWYou can now listen to Fox News articles!
A national home health company apologized Monday for a job ad it called "offensive," but offered no explanation about how the discriminatory notice made it into a local New York newspaper.
Interim HealthCare Inc. published a "help wanted" ad last week in a Rockland County, N.Y., Pennysaver, saying it was looking for a nurse and that "no Haitians" need apply for the position.
"Laid back nurse, no haitians, must have strong respiratory mngt," read the ad in the Oct. 15 issue of the weekly New City Pennysaver.
The advertisement for a nurse in West Haverstraw, N.Y. -- which has since been removed -- sparked outrage on social media and among members of Rockland County's Haitian community.
Democratic State Sen. David Carlucci said the ad represented a "blatant form of employment discrimination" and called on an investigation by the New York State Department of Labor and the federal Equal Opportunity Employment Commission.
Interim HealthCare Inc. -- a national franchise that provides in-home care -- apologized for the ad in a statement Monday, calling it "totally unacceptable" and "offensive."
"I can assure you that we take this seriously," said regional president Katherine McNally.
"We have engaged an independent third party to conduct a comprehensive review of what occurred," McNally said. "All policies and procedures will be reviewed to assure that it will never happen again. We have already taken action and will continue to do so. Please accept our sincere apology. In particular, we apologize to the entire Haitian community."
The New City Pennsysaver, meanwhile, told FoxNews.com Monday that the ad was "mistakenly published without proper editing protocol."
"We recognize the wording was highly offensive to our readers, executives as well as the employees of The Pennysaver and by no means does it reflect the opinions or feelings of the company," the paper said in a statement. "We strive at The Pennysaver to publish fair and non-discriminatory content."
Interim HealthCare is one of the oldest leading home care companies with more than 300 locations nationwide, according to its website.
Rockland County, located about 30 miles north of New York City, has a large Haitian population. Berthilde Dufrene, founder of the Haitian American Nurses Association of Rockland County, blasted the advertisement in a posting Monday on her Facebook page.
"This is not just a disrespect of the Haitian nurses, but disrespect for the nursing discipline and the entire community that have benefited from the services and care provided by the Haitian nursing professionals," Dufrene wrote.